I have uploaded a new promo poster, some stills and screencaps from the film trailer to the gallery. To see the goods click the pictures below:
Download This Podcast
Right Click Link and "Save Link As"
Actor/Writer/Director Michael Rosenbaum ("Smallville," Urban Legend) joins Adam and Joe for a rowdy and hilarious discussion about directing his first feature film Back in the Day, the differences between a major studio production and an independent film, what comes with having played the iconic "Lex Luthor" on one of the most historic show's on television for 7 years, and learning how to direct from being on a set. Of course your terrific "Viewer Mail" questions are answered at length, Bruce Fuery punishes the boys at the hands of his "Fists of Fuery," and Rosenbaum joins in for the most challenging "5 Minute Movie" so far. Listen, learn, and laugh along at one of the most fun episodes yet!
In the comedy Back in the Day, a high school reunion gets out of hand as the class of 1994 tries to relive its youth in some inappropriate ways. Jim Owens, played by Michael Rosenbaum (Smallville), stirs up trouble when he makes a surprise appearance at his 20-year high school reunion and convinces his married friends to embark on one last hurrah. Between cruising their old strip, settling a score with the high school principal, rekindling a past romance and almost breaking up a wedding, this turns out to be one wild trip down memory lane.
There's plenty of raunchy humor to go around in this irreverent flick, but it is also a celebration of friendship. Owens' shenanigans nearly cost him some of his oldest friends when the fun gets out of control.
Other cast members include Homeland's Morena Baccarin, Nick Swardson (Grownups 2), Harland Williams (Robot and Monster), Jay R. Ferguson (Mad Men) and singer/songwriter Richard Marx.
In addition to starring in the lead role, Rosenbaum wrote, directed and produced the film. Suzanne Blech, the president of Screen Media Films, which has acquired the worldwide rights to the project, was recently quoted by Indiewire saying, "We have followed Michael Rosenbaum's career with great interest over the years and we are thrilled to be working with him on his directorial debut." She went on to describe the movie as "the perfect mix of funny, crazy and endearing all rolled into one."
Back in the Day will be available for On Demand (VOD) viewing Jan. 7, 2014, before hitting theaters in limited release Feb. 7, 2014.
Source: stack.com – Class reunion turns crazy in Back in the Day
Screen Media Films President Suzanne Blech announced the acquisition of worldwide rights to Michael Rosenbaum's raunchy comedy BACK IN THE DAY and will release the film in theaters on February 7, 2014 with an ultra VOD window on January 7, 2014. This marks Rosenbaum's feature film directorial debut that he also wrote and stars in along with Morena Baccarin, Nick Swardson, Harland Williams, Sarah Colonna, and Isaiah Mustafa.
"We have followed Michael Rosenbaum's career with great interest over the years and we are thrilled to be working with him on his directorial debut," said Blech about the acquisition. "This film is the perfect mix of funny, crazy, and endearing all rolled into one."
"I couldn't be more excited to have Screen Media releasing BACK IN THE DAY," said Rosenbaum. "It's truly awesome to see their passion in getting the movie out there and seen by a wider audience. The film is very dear to me as I shot it right in the heart of where I grew up in Newburgh and Evansville, Indiana. Somebody pinch me. Harder please."
When Jim Owens makes a surprise visit to his high school reunion… all hell breaks loose. Hilarity ensues as he wrangles his now-married friends together for one last hurrah. Cruising the old strip, seeking vengeance on an old high school principal and nearly breaking up a wedding gets Jim into hot water with his friends and their wives.
BACK IN THE DAY is written and directed by Michael Rosenbaum and stars Rosenbaum, Morena Baccarin, Nick Swardson, Harland Williams, Sarah Colonna, and Isaiah Mustafa. The film was produced by Kim Waltrip (Hit and Run, The Disappearance of Eleanor Rigby: Him and Her) of Kim and Jim Productions, and is also a Rose and Bomb Production.
For more information about the film:
https://www.facebook.com/backinthedaymovie
https://twitter.com/BITDthemovie
Source:wearemoviegeeks.com – Screen Media to release Michael Rosenbaum's Back in the Day on VOD Jan 7 and theatres Feb 7
I have uploaded some pictures from Wizard World convention in Chicago click the picture below to see them:
Marvel Comics' patriarch seems to have weighed in on one of DC's greatest foes.
The Man of Steel sequel will happen, and when it does, Superman will need his Lex Luthor. Back in June, we told you how Smallville's Lex Luthor, Michael Rosenbaum, was lobbying to be Lex Luthor again in Man of Steel 2.
Rosenbaum is still on his quest to make his Luthor-shaped dreams come true, and he's enlisted an unlikely ally — Stan Lee.
While at a convention recently, Rosenbaum got Stan Lee's signature. While Lee was signing, he also took the opportunity to include a little message, which Rosenbaum was very keen to tweet.
"The best Lex Luthor." Considering the many actors who have played the part, those are some big words. We're just not sure what the value of those words is. Yes, Stan Lee is arguably the biggest living legend in comics. He's a Marvel man, though! He's the Marvel man! This could just as easily be an argument against Rosenbaum as one in favor.
Still, it's pretty cool. Let it never be said that Stan Lee does not occasionally like to stir things up.
Source:blastr.com – Stan Lee calls Michael Rosenbaum the best Lex Luthor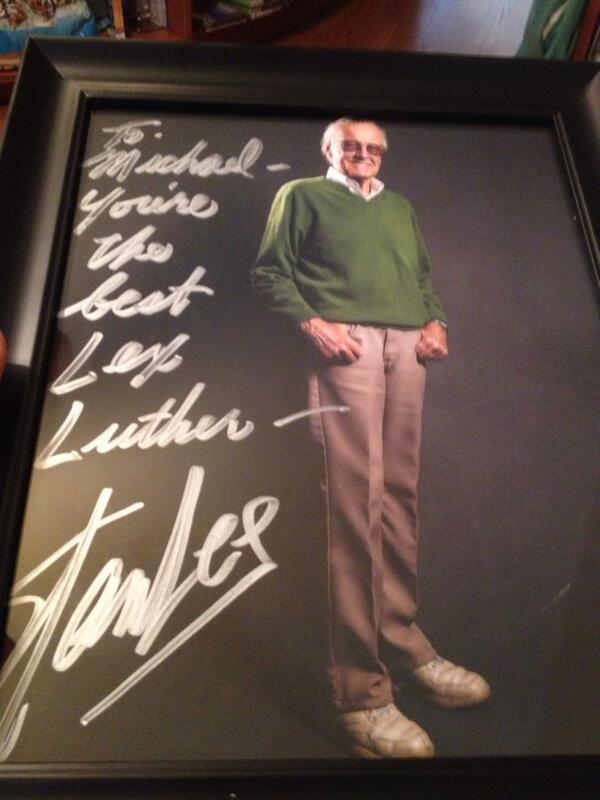 I think everyone who is a fan of Michael's is excited for his first venture as writer/director in the movie Back in the day (previously titled Old Days) It looks like we will finally get to see it in 2014….if we can be patient enough I am not too sure I can be!
Until then show your support and keep up to date with everything to do with the movie on the official Facebook and Twitter pages.
Yes we have a brand new layout! What do you think? Feel free to leave me comments I do love to hear from Michael's fans and I hope that everything works well for you. I have to admit I love the new layout it is much cleaner!
Remember if you have anything to contribute to the site, fanart or pictures you have had with Michael you can email me admin@michaelrosenbaumonline.co.uk and it is the same email if you have a website you would like to afiliate with us.