I have uploaded some recent Twitter pictures to the gallery click the picture below to see the goods:
For the better part of a decade he was the universally recognised Lex Luthor, one of the most enduring villains in the DC Comics universe known for his brilliant strategic mind as much as his penchant for brutality. He also voice The Flash in several cartoon series – Justice League, Justice League Unlimitedand Teen Titans among them. Then there was the short lived Breaking In, which probably never aired in Australia, but the Wikipedia entry describes his character as having a "jock-like personality" and sells his own urine. And let's not forget his sole appearance on cringe comedy It's Always Sunny In Philadelphia, playing Dee's smug and sleazy boyfriend/burglar.
Sure, there's plenty of other stuff that Michael Rosenbaum has done, and I'm definitely self-selecting (for the purposing of a long and winding set-up), but does Michael Rosenbaum gravitate towards jerky characters?
"Well, it's not fun to play a jerk when they're just a jerk, but if you look at the characters like Lex Luthor…he started out as a good guy, but his history, his father, that was his evolution that turned him into a bad guy," answers Rosenbaum. "If you watch the first three seasons of Smallville, you're like, 'Oh, he's the good guy!' Inevitably, we know what he becomes, but that was what was interesting – why does he become bad? Even Dutch from Breaking In, even though he was kind of a loud, douchey character, you saw that he had a good heart. I don't choose a character based on whether they're evil, but there has to be something interesting about him".
With a career that, while varied, is dominated by science fiction and fantasy-type roles, Rosenbaum is no stranger to the pop culture convention circuit. For those yet to witness a Q&A session with a star at such events, it can be a confronting experience. The talent sits on a stage with a microphone as one person after another lines up to ask them anything. At best it is a moment for heartwarming connections between fans and the objects of their adoration, at worse they are sterile, awkward train wrecks where time itself slows down. For his first appearance at Australia's Supanova Pop Culture Expo, Michael has come prepared.
"I think it's my gift, I just feel like I know how to make everybody feel comfortable," he says, with such confidence you can't be sure if he's joking or not. "I've always been like that, I have a crazy family and they all hate each other, but when I am in the room I try to make everyone feel comfortable.
"And for the people at Supanova, I just want everyone to know that I'm a real guy, I grew up in a small town…I think people see, 'Oh, he's just not that guy on TV', I think I'm very approachable. I love the fans, if they weren't there, I wouldn't be talking to you from my house. I'd be talking to you from my apartment, or my grandmother's house!"
And when the questions inevitably skew towards the super technical – those conspiracy theories about the DC Universe, questioning the science behind Superman's Kryptonite-based weakness – can Rosenbaum hold his own?
"I answer what I can. Hold my own? I don't know. I wasn't a big comic book fan when I was younger, I was into horror movies, action figures and Star Wars. So that world I can definitely do. But with Smallville, I had to learn a lot of stuff on the fly. I knew Lex Luthor was the bad guy that Gene Hackman played, but that was about it.
"I always look at people that know everything about the comic book mythology and I respect it. Yeah, they're nerds, and I'm a nerd with horror movies. Can I
hold my own? Probably not. These people really know there shit!"
This year's Supanova lineup runs the spectrum of pop culture as ambitiously as ever, from iconic comic book artists to TV stars to the delightfully kitsch (The Hoff, anyone?). As much as these conventions are about looking back on past achievements, Rosenbaum is hopeful to insert a few mentions about his more recent and future activities. In 2011, he launched his own production company Rose and Bomb Productions, and the small smattering of films released under that banner – a murder mystery, a tear-jerker and a rom-com – suggests that Rosenbaum is playing the field at the moment. He wrote, directed and starred in his latest film, Old Days, in an action that is referred to in 'the biz' as 'Afflecking it'. Despite prematurely aging about a decade in the months it took to film, Rosenbaum is still chuffed at the experience. (To clarify, I'm more than certain no one calls it 'Afflecking it'…and they won't let me anywhere near 'the biz'.)
"I always said I wanted to go to Hollywood to make movies, but to be able to write, direct and star in a movie with your friends, in your hometown, it doesn't happen very often. I am very lucky to have that happen. And I'm also very lucky that I didn't die in the process, because it is a shit tonne of work!"
Our time has come to an end, and there are still so many questions to ask. What does it feel like to wear a bald cap for most of your adult life? When you're doing voice work for cartoons, do you bother wearing pants? And what of these whispers of your involvement on Marvel's big screen adaptation of Guardians of the Galaxy? Well, I've got to leave some questions for the fans to ask at Supanova, right?
BY MITCHELL ALEXANDER
Michael Rosenbaum will be appearing at Supanova, which runs at the Melbourne Showgrounds from Friday April 12 to Sunday April 14.
Source: beat.com.au – Michael Rosenbaum
 Michael has been announced at a convention at Melbourne Showgrounds in Austrailia 12-14th April 2013 as well as at the Gold Coast convention and Exhibition center 19-21 April 2013. He is going to be there all days and will be partaking in Q&A sessions, photographs and autographs. An autograph will cost $30 and photograph $40 for more information and to buy tickets go Here
Back when production of Smallville's fourth season was gearing up for production, VFK editor Ed Gross had the opportunity to speak to series star Michael Rosenbaum not only about continuing his role of Lex Luthor on the series, but his voice work as The Flash in Cartoon Network's animated Justice League series. This interview has never appeared online before. The interview is being presented as it was written back then.
Talking to Michael Rosenbaum is an exercise in schizophrenia. On the one hand you're seeing Lex Luthor from Smallville, on the other you're hearing the voice of the Flash from the animated Justice League or you're finding yourself joined by the likes of Kevin Spacey and Christopher Walken, whose voices and mannerisms the actor effortlessly slips in to. It would be a little disquieting if it wasn't so much damn fun.
When Smallville began its run on the WB four seasons ago, Rosenbaum was continually asked how he was going to handle the comparisons to Gene Hackman, who had immortalized Lex in the Christopher Reeve films. "From watching the Superman movies, I was always a big Lex Luthor fan," he explains. "You have to love Gene Hackman. You can't get around that. I was scared to think people were going to say, 'He's not Gene Hackman.' But I was really doing a character before the character was developed. Everybody was seeing Lex Luthor as a villain. So for me, I wanted him to have vulnerability and a reality to this character. I just wanted to play it real and go with the writing that they were giving me and just trust it. But, you know, in truth I just think I got lucky."
Although he was born in New York, Rosenbaum was raised in Indiana, where, while in high school, he developed a passion to perform. He acted in school plays and continued to do so when he entered Western Kentucky University. Upon graduating with a Backer of Arts in theater degree, he moved to New York where he scored roles in a number of Off-Broadway and independent plays.
Beginning in 1999, he started to score voice work that has carried him through episodes of Batman Beyond, The Wild Thornberrys, Static Shock, Batman Beyond: Return of the Joker, The Zeta Project and, of course, Justice League. His film credits include Midnight in the Garden of Good and Evil (1997), Urban Legend (1998), Eyeball Eddie (2000), Sorority Boys and Poolhall Junkies (both 2002), Bringing Down the House (2003) and the forthcoming Cursed.
This fall he commences the fourth season of Smallville, bringing Lex further down the inevitable road to darkness.
VOICES FROM KRYPTON:The world needs to know: is voicing the Flash as much fun as it looks?
MICHAEL ROSENBAUM: You know why it's fun? I love the cast, obviously, they're a lot of fun, we laugh a lot, do different impersonations and do goofy voices, because we're all hams. The creators and Andrea Romano, who is the one sitting behind the plexiglass directing the actors, just speeds everything up and it's fun. On top of that, it's nice to go from the dark side – or playing a character who's going that way anyway – and then coming here and doing the guy who's doing all the one-liners. It's always fun to be the funny guy; the guy who just makes you laugh. When everything's bad, just leave it to Flash to crack a joke or hit on Hawkgirl. Actually, he should hit on Wonder Woman a little more. He calls her Dirty Diana [laughs].
VOICES FROM KRYPTON: In the final episode of Justice League in its initial incarnation – "Star Crossed" – there was a great moment when you reveal your secret identities to each other. I thought you played Flash's awkwardness great.
ROSENBAUM: I leave it up to Bruce Timm and those guys. They know exactly how it's going to be animated – obviously – so when they give me directions, I don't quite get it, but then when I see it I go, "Oh, okay, that makes sense." So it's direction, too, and I've got to give credit where it's due.
VOICES FROM KRYPTON: Obviously on Smallville you get to actually perform some amazing scenes in front of the camera, but when you're in the recording studio acting out something like Old Time Radio, is that creatively exciting?
ROSENBAUM: I try to be as free as I can with everything that I do. I feel the more open I am and the more I lose my inhibitions, the better I am as an actor. It's good to have fear, it keeps you driven and when your nerves are rattling, it actually fuels my fire. It's the same both on screen and when you're doing the voice. You start going and you start doing your lines and people are kind of laughing or it feels like it's going right, it just gets better and better. If you're off to a bad start, you have to somehow turn it around and think of something else. In a way I compare myself to a situation that I heard Rodney Dangerfield had had while making Caddyshack. He had never acted before. He was a comedian, so he was used to people laughing at everything he said. When the camera was rolling and he was doing his lines. You know [breaks into Dangerfield impersonation], "Hey, how you doing? Hey, waiter, nice hat." [back to normal] But no one was laughing. When the director yelled "Cut!", he looks at one of the costars and says, [back to Dangerfield] "I'm bombing out there. No one's laughing." [back to normal] "They can't. They've got to be quiet, because they'll be recorded and filmed." It's like that for me when I'm performing. That's why I miss the theater so much; it's that instant gratification; that moment when you say something, you feel that energy, whether it's passion or it's comedy. I do miss that. But you have to trust your instincts. The older I get, the wiser I get – I guess. I don't know about wiser, but the more comfortable I get.
VOICES FROM KRYPTON: Why don't we go with wiser?
ROSENBAUM: Probably a good idea.
VOICES FROM KRYPTON: Looking back at year three of Smallville, I'm curious what your feelings are about Lex's overall arc.
ROSENBAUM: I just talked to Jordan Levin [who at the time was President of the WB] and Al Gough and Miles Millar, and I have a feeling that we're going to get a little dirtier this year. I think things are just going to start coming out, which is nice. Although this sounds redundant, I think it's inevitable that I become evil, but it's also great because the audience is just, like, "Of course this is why he's becoming bad." I kind of have that opportunity to become more evil because they know what I've gone through. I'm almost being forgiven for becoming evil, which is really a nice take on it. I continue to be careful and try to be as ambiguous as I can with the character. I don't want to give too much away, but I think this next season we're really going to go into the relationship between me and Clark, get deeper into that. Probably dig into the past a little bit and they're supposed to introduce some new characters, so we'll see what happens.
VOICES FROM KRYPTON: One of the things I've found frustrating is that Lex and Clark are supposed to be best friends – why don't they go to the circus or hiking together? Do something.
ROSENBAUM: Yeah, why don't they go on a trip? A lot of the fans would like something like that.
VOICES FROM KRYPTON: All we're getting are those little moments, not those scenes where you get to see them really bond.
ROSENBAUM: How about Magic Mountain or we go and take the Superman ride at Six Flags?
VOICES FROM KRYPTON: Now you're being sarcastic [both laugh].
ROSENBAUM: I'm laying it on you pretty thick, Ed. To tell you the truth, I've thought about that, too. They're best friends and all they do really is give each other advice and talk to each other when they have to or when something's up. Yeah, why don't they sit around and drink a few beers? You know what? I'm actually going to ask Al and Miles about that.
VOICES FROM KRYPTON: It's just that the fall will ultimately be more powerful if you get the sense of a genuine friendship there.
ROSENBAUM: We could jump on the Luthor jet and fly over to Metropolis or have dinner and just hang out. You know, there are those fans who want Clark and Lex to get together. It kind of makes me laugh, but if we went out to dinner or on a trip, they would just eat that up and it would give them plenty to talk about.
VOICES FROM KRYPTON: When you look at the last two episodes of the season, you walk away with the feeling that you could do a spinoff called The Luthors and it would be just as interesting.
ROSENBAUM: It would really be a cross between Smallville and Dynasty. It would be pretty fun. Especially once I become evil: it would be a show called
Luthor and it would be about all of these horrible things I do. It's amazing what you could do with that, because all of these other characters could come into the picture. You could bring Batman in, because they obviously have a relationship; and, of course, Superman.
VOICES FROM KRYPTON: It's just that the character is so interesting and the stuff between Lex and Lionel is pretty amazing.
ROSENBAUM:I give a lot of credit to John Glover. I always feel compelled to be more prepared. Not that I'm ill-prepared for other scenes or other actors, but I just feel that if I'm at my best, I'm only going to be better with him. We all goof around a lot, but I'm very passionate and John is very passionate, so when we work together, I guess we inadvertently create a little magic between us. We try to up the ante every time we're together, because we're going into season four and if you don't try and make things more interesting, they become stagnant. Not to discredit the writers, but you've gotta keep doing your thing while they're doing theirs. They've got to keep writing and we have to keep coming up with better stuff. It's very collaborative. But we have such a good time. There have been times when we're super close-up – actually I just approved a gag reel where there's this close up in which he's talking to me very intensely and I pretend that I'm going to kiss him and we all laugh. He just responds, "Michael, damn it!"
VOICES FROM KRYPTON: I thought a defining moment for Lex this season was "Talisman," when Lex sets himself up as the hero of the story rather than the villain.
ROSENBAUM: To me it is pretty obvious, though I think very clever at the same time. It says a lot. It's just a great foreshadowing into the future, saying that it's going to take a strong guy to take care of business. I definitely saw that right away.
VOICES FROM KRYPTON: As far as playing Flash and playing Lex, is there something special knowing that you are transcending doing just another acting job and becoming part of the legacy of these characters?
ROSENBAUM: Of all of the things that I've done, this will stand the test of time. Twenty-five years from now when my kids are watching TV, I throw in this and they'll be, like, "You were Lex Luthor?" I hope that they find it as cool as I do and I hope they find it as cool as a lot of people do. It's history. It's been around for a long time and it's wonderful to be given the opportunity to play such a legendary character. If there's one thing I'll always appreciate and admire or look back on and say, "Wow," it would be working on Smallville. And besides that, you just know that 25 years from now if nothing's going right, you can do some convention somewhere. Did you ever see the movie Galaxy Quest? What a great movie, and I keep thinking, "You know what? Worse comes to worse, I gotta pay for the house, I know what I've got to do."
Source: voicesfromkrypton.net – Smallville Justice League Lost interview with Michael Rosenbaum
Michael Rosenbaum is no stranger to superheroes having provided the voice for The Flash in the Justice League, Teen Titans, and Static Shock cartoons, Deadman in Batman: The Brave and the Bold, and playing Lex Luthor in over 150 episodes on the very successful CW series Smallville. But it seems Rosenbaum could make the leap to Marvel as he tweeted this message yesterday:

Rosenbaum isn't the only new name to be added to the potential Peter Quill list as Joseph Gordon-Levitt is said to be on the short list of actors which also includes Jim Sturgess (Cloud Atlas) and Zachary Levi ("Chuck").
The Quill character is likely to be the central protagonist of the film. Raised on Earth, Quill learns that his father was from outer space and is drawn into an intergalactic conflict that eventually leads to him becoming the leader of the Guardians of the Galaxy.
Also said to be on the movie team's roster are the characters Drax the Destroyer, Groot, Rocket Racoon and Gamora. Check back for casting details on those roles as they emerge.
Guardians of the Galaxy is set to be released on August 1, 2014.
Source:superherohype.com – Michael Rosenbaum also in the running for Guardians of the Galaxy lead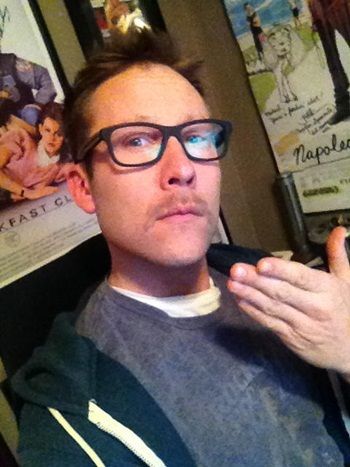 This november Michael is joining the fight for mens health and growing a moustache he need his fans support so let us all donate to the cause and show him that we always support him. This is a great thing to do and no matter how much you donate it all helps so go and spread the word and lets raise some money for a great cause and a very…interesting lip warmer!
Go HERE to donate and show your support