MR news
I have added screencaps from this video to the gallery to see them simply click on the picture below: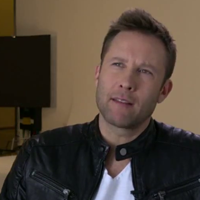 The Kentucky Museum will now have villainous ties to the comic book world as Lex Luthor's suit is prepared to go on display.
Michael Rosenbaum, a WKU alumnus, played Luthor, arch nemesis of Superman, on the TV series "Smallville." Rosenbaum is donating one of Luthor's suits to the museum's Instruments of American Excellence exhibit.
"It's the white suit that Lex Luthor wears… when he becomes president in the future and we see glimpses of that throughout the 'Smallville' series," he said.
The exhibit, which opened in the fall of 2012, showcases many artifacts from American history and pop culture, ranging from heels worn by actress Liza Minnelli to Neil deGrasse Tyson's first telescope. Regional items, such as Louisville Slugger bats, are also on display.
"The thrust of this exhibit is having ordinary things that people used to do extraordinary things," John Perkins, director of development and special projects, said.
All items in the collection were received as donations, including Rosenbaum's latest addition.
"It was a joint effort by our chair Dan Murph and a number of board members to tell people about this grand idea (for the exhibit) and really get them to be behind it," Brent Bjorkman, interim director of the museum, said.
Rosenbaum said it was Perkins who reached out to inquire if he would be interested in contributing to the permanent exhibit.
"I got this email out of the blue… and he told me a lot about (the museum) and I thought it was pretty fascinating," Rosenbaum said. "At first I thought 'I don't belong there.' I mean, this is John Wayne and Liza Minnelli's shoes."
He was reminded by Perkins that "Smallville" was an extremely popular show in American pop culture during it's stint on air.
"I always think about, you know I was just an actor on that show, but then you bump into people, soldiers who were in Iraq and they say, 'Hey, it got me through the war'…so it's humbling," he said. "So I thought, you know, why not? It was kind of an iconic show and it lasted 10 years, it was pretty popular, so I said how about the white Lex Luthor suit that he wears when he becomes president."
Rosenbaum had kept one of the two white suits used on the show. It's this suit that he will send down to go on display.
After the museum acquires the suit from Rosenbaum, it will go through a screening and cleaning process by the museum curator and her team.
Donna Parker, exhibits curator, said the donation is exciting.
"The first thing we'll do is take it and evaluate it… and if it needed any kind of cleaning, we would clean it," Parker said.
Following this and several other cleaning steps, the team would check to be sure no repairs need to be made to the seams of the suit and begin building a form or mannequin to display the suit.
"You either want to purchase or make a form that will fit the piece," she said. "A lot of times what we do is take a form and pad it out… to fill the form (of the clothing)."
There is not a set date yet on when the white suit will be on display, but Parker and others on the curation team ensure it will be up once they're able to go through normal preservation and display procedures.
Source: mkuherald.com – Smallville actor donates suit worn in show to Kentucky Museum
Actor Michael Rosenbaum will be a featured celebrity guest at the "1st Annual Shock Pop Comiccon" which takes place February 13th – 15th, 2015 at the Broward County Convention Center in Fort Lauderdale, FL.
Rosenbaum is best known for his starring role as Lex Luthor for seven seasons on the hit CW television series, "Smallville" and as the voice of Wally West/The Flash on the animated series, "Justice League."
Other guests scheduled to attend the three-day convention include Robert Englund ("A Nightmare on Elm Street",) Ralph Macchio ("The Karate Kid",) Sylvester McCoy ("Dr. Who",) and Kristin Bauer ("True Blood").
For more information or to purchase tickets, please visit http://shockpopcc.com/.
TV Land continues its transformation toward single-camera, edgier comedy with 10-episode series orders to both of its pilots: Impastor starring Michael Rosenbaum and Teachers, topined by improv group the Katydids on whose web series the series is based. Both are single-camera and will premiere in 2015. While TV Land, once known as home for classic sitcoms, kicked off its original efforts with multi-camera series, single-camera comedies now outnumber traditional sitcoms on the network's original slate. The streak started with a series order to the single-camera Jennifer Falls in January, which has been followed by series pickups of only filmed comedies — Younger, the Jim Gaffigan show and now Impastor and Teachers. The network has only three multi-camera original comedies on the air: Hot In Cleveland, spinoff The Soul Man and The Exes.
"Impastor and Teachers are perfect examples of the type of comedies we're looking for as TV Land evolves its original series – innovative, unconventional, and hilariously funny for an audience that enjoys smart humor with a hint of heart," said TV Land President Larry W. Jones.
Impastor, from Christopher Vane stars Michael Rosenbaum, Sara Rue, Aimee Garcia, Mircea Monroe, Mike Kosinski, and David Rasche. It revolves around Buddy Dobbs (Rosenbaum), a gambling, pot-smoking slacker on the run from a loan shark who steals a man's identity and ends up posing as the new gay pastor in a small, tightknit town. Although he's tempted to immediately run off with the pastor's money, Buddy has a change of heart when he realizes that the people there, including his prim church assistant Dora (Rue), actually like this new and semi-improved alter ego — and he kind of likes them back. Impastor is executive produced by Vane and Rosenbaum, along with Eric and Kim Tannenbaum. Rob Greenberg directed the pilot.
deadline.com – TV line picks up 'Impastor' and 'Teachers' to series
Vancouver doesn't get many TV comedy pilots. This is a TV drama town. But TV Land's single-camera comedy pilot Impastor is expected to film here from August 5th to 10th (dates subject to change). From writer Christopher Vane, Impastor stars Michael Rosenbaum (Smallville's Lex Luther) as Buddy, a guy running from his debts in San Franciso who cons the residents of a small town into thinking he's their new gay pastor.  Sara Rue co-stars as the pastor's assistant and Mircea Monroe as the Head Trustee of Loomis Lutheran Church. Back in San Francisco, Aimee Garcia plays Buddy's girlfriend, a bartender who has to deal with the cops, his criminal creditors, and snarky mother after his apparent "suicide". Sounds like fun.
Source:yvrshoots.com – TV Land's Dark Comedy Pilot IMPASTOR With Michael Rosenbaum as Fake Pastor
Happy birthday to the crazy, wonderful, funny, handsome, talented, and downright amazing Michael Rosenbaum! I know he loves his fans so if you have anything you wish to say to him you can feel free to leave him a comment after this post. I wonder what madness he has planned this year? Whatever it is I really hope he has an amazing time and really enjoys himself  xxx
CLEVELAND, Ohio – Had they lived, Superman creators Jerry Siegel and Joe Shuster would turn 100 this year.
Superman fans have a very short period of time to buy into a little piece of history and contribute to a Kickstarter campaign to finish a long-overdue documentary on the history of Superman and his Cleveland creators. The work is almost finished and needs a $6,000 nudge to get it released this year.
One of the producers of the documentary is a guy who knows something about Superman, Mike Olszewski, president of the Siegel and Shuster Society, the group formed to honor the men and their super-creation. Olszewski is quick to point out that the project is independent from his work at the society.
The Kickstarter campaign ends Thursday, July 10, and by that time Red Duck Pictures hope to raise the $6,000 it needs to finish the project. Organizers are more than $5,000 short of the goal, so dig deep if you ever want to see the documentary. Kickstarter is a novel way for artists to get enough money for their project directly from the people who want to see it done.
Contributions to the campaign earn backers anything from ticket stubs from the world premiere of "Superman IV: A Quest For Peace" which was held in Cleveland in 1987, and T-shirts, posters and other items from the occasion. The big prize is a coveted brick from the house of Jerry Siegel where Superman was created. The numbered brick is one of 100 saved when the house was remodeled and comes with a plaque and a certificate of authenticity. There are very few of these around.
The movie project started in 208, and most of the heavy lifting is done. The $6,000 will pay for the finishing touches: adding a musical score to the work, improving the graphics, narration, basic legal costs and other production costs.
"From fanboys, filmmakers and Cleveland history-nuts comes a documentary on one of the biggest American icons of all time," says the Kickstarter pitch. "This film aspires to tell the story of two young boys, who dreamt of a world with magic, heroics and a greater human kindness during our country's Great Depression — something we can all appreciate in our current world."
The film includes interviews with many comic industry leaders who were involved with Superman, such as DC artist Carmine Infantino, artist Neal Adams (who was instrumental in getting financial and other benefits for Siegel and Shuster just before the Richard Donner Superman movie) and such contemporaries as Marvel's Stan Lee. Also included are interviews with actors involved with the character, including two Lois Lanes – Noel Neill and Margot Kidder; a Supergirl, Helen Slater; and television's Lex Luthor, Michael Rosenbaum.
"The interviewees were extremely generous with their time and comments no matter where we caught up with them – even such busy events as the New York Comic Con and Mid-Ohio Con. Siegel and Shuster's work cast a wide net of influence and a lot of people wanted to pay tribute to these remarkable men," the website says. "While we do review some of the history, which has been well documented over the years, we also stress the legacy of Siegel and Shuster and how they will be remembered in the future. Some of the comments may surprise you. . . .
"And if you're interested in getting just a little taste of what it's all about, please check out our Siegel & Shuster mini-documentary featured at the Superman exhibit at Cleveland Hopkins International Airport."
Source: cleveland.com – Superman, Siegel and Shuster local documentary looking for backers
Donate to the kickstarter campaign HERE
TV Land is looking to Smallville for its next lead.
Michael Rosenbaum has joined the cable network's single-camera comedy pilot Impastor, The Hollywood Reporter has learned.
Impastor centers on a low-life (Rosenbaum) who hides out in a small town by conning the residents into thinking he's their newly hired gay pastor.
The casting comes weeks after Rosenbaum left NBC's 1960s space comedy Mission Control, which was ordered to series in May, in a recasting.
Chris Vane will serve as writer/executive producer on Impastor, which will also be executive produced by Eric and Kim Tannenbaum,as well as Robert Greenberg and Rosenbaum.
Rosenbaum is repped by APA and Untitled Entertainment. Following Smallville, Rosenbaum appeared in Hit and Run; wrote, directed, starred in Back in the Day; and recurred on Fox's Breaking In.
Source:hollywoodreporter.com – Smallvilles Michael Rosenbaum to star in TV Land comedy Impastor
Michael will be appearing at all three days of the Salt Lake Comic Con in Utah from September 4-6 2014. For more information about ticket prices and the event itself see Salt Lake Comic Con