Back in the Day can finally be on all of our shelves as it is being released in the US on April 8th 2014 on Blue Ray and DVD. I really would love if all fans of Michael would buy a copy, I am in England and have pre-ordered mine from Amazon.com so country is not a problem, I would love to carry on the amazing support we gave him when it was available on demand and buy this film. If he gets good sales it will help him to get more projects greenlit and I think we all would love to see more Michael at the cinema and on our TVs!
Michael Rosenbaum is set to co-star opposite Krysten Ritter in NBC pilot Mission Control, a Universal TV-produced comedy from studio-based Gary Sanchez Productions and executive producers Adam McKay and Will Ferrell. A workplace ensemble set in 1962, Mission Control examines what happens when a strong woman (Ritter) butts heads with a macho astronaut in the race to land on the moon. Rosenbaum will play Bus, a handsome, jockish, stubborn and loudly likeable NASA astronaut. Rosenbaum, repped by APA, Untitled and attorney Todd Rubenstein, was most recently seen in feature Back In The Day, which he wrote, produced, starred in and directed.
Source:deadline.com – Michael Rosenbaum joins NBC pilot Mission Control
By now I am sure you have all heard about Jesse Eisenberg getting the role of Lex Luthor in the new Superman vs Batman movie and if you are anything like me you are shocked and angry. Why would anyone choose Jesse, who is a very good actor but over Michael who has proven on Smallville that he can make a villian have more than one side. His portrayal of Lex amazed me and whenever I have a Smallville rewatch I am more and more amazed at how incredible Lex is on there and it is down to Michael taking a well known character and transforming him into more than just the bad guy.
Now we as a fandom need to stand up and make our presence known some of my friends have taken a stand and started a petition and made a facebook page. I ask you all to please sign it and hit the like button and spread the word throughout the fandom. We need to come together to show them the following that Michael has and how much we want to see him as Lex on the big screen.
Sign the petition HERE
Like the facebook page HERE
Echoes of Hope Luc Robitaille Celebrity Hockey Shoot-Out, Jan. 19 at 2:30 p.m. at Park City Ice Arena
The seventh annual Hockey Shootout brings together Hollywood and hockey stars for a day on the ice, starting with youth hockey clinics in the morning and featuring a celebrity hockey match. Competitors include hockey pros Luc Robitaille, Brendan Shanahan, Sean O'Donnell, Larry Murphy, Brad May, Anson Carter and Ron Duguay, along with celebrities David Boreanaz, Matisyahu, Michael Vartan, Andie MacDowell, Michael Rosenbaum, Isaiah Mustafa, Steven R. McQueen, Neal McDonough, Alan Thicke, Fred Coury, Taylor Dayne and others.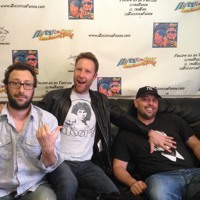 Michael Rosenbaum (Smallville, Justice League) is this week's guest on Decently Funny and we jump right into a very serious topic, manscaping. Michael played Lex Luthor on Smallville so he had to shave his head everyday for a while, but Michael, Nuzzy & Guy all discuss the naughty areas that they shave. We also talked about Judaism, broadway shows, dating, childhood, and the best way to accurately throw a Garvin. Michael nails a number of celebrity impressions throughout the show and he also leaves us with terrific advice on our upcoming Henry Winkler intervie
This week we play an exciting game of "Play it Forward" where Michael Rosenbaum has to match wits with last week's Decently Funny guest: comedian/actor Steven Brody Stevens.
Watch Michael Rosenbaum, Nick Swardson, Harland Williams and Morena Baccarin in Back in the Day available on Video On Demand starting 1/7/14. Theater release 1/17/14.
Download our brand new app for the iPhone RIGHT HERE and for android RIGHT HERE
Follow us all on twitter @mrosenbaum711 @theNuzzy @theguydf @littleboatjack & @DecentlyFunny.
Download all of our shows on iTunes, Soundcloud, Stitcher and DecentlyFunny.com. Theme song written by Little Mikey and performed by Panic! at the Disco.
Listen to the podcast HERE
Jason Manns has planned a christmas album for next year and we the fans can contribute to making this happen! He has tweeted that Michael will be a part of this project so I am calling on all MR fans to help make this happen, you can pledge to get things like downloads of the album, a signed xmas card or even Jason to play a gig near you! So head on over to HERE and pledge, pledge, pledge!
Calling all Smallville fans! This is your chance to sit down to lunch with Michael Rosenbaum,aka "Lex Luthor," in Los Angeles. Get the scoop on his hilarious writer/directorial debut, Back in the Day, due in theaters January 17 and on VOD January 7, 2014.
View the trailer HERE!
"Rosey" is a film and TV actor, director, producer and writer. In addition to his portrayal as Lex Luthor – a role that TV Guide included in their 2013 list of The 60 Nastiest Villains of All Time – he is best known for his performance in Sorority Boys.
Rosenbaum is also known for portraying Dutch Nilbog on FOX's Breaking In, and voiceover work in animation, such as his role of the Flash in the DC animated universe.
Proceeds benefit OneKid OneWorld and LA Clash, a youth baseball program committed to providing high level instruction, training and scholarship opportunities for emerging baseball talent in Southern California.
You can bid here to win an amazing opportunity and support some great charities:CharityBuzz
Screen Media Films President Suzanne Blech announced the acquisition of worldwide rights to Michael Rosenbaum's raunchy comedy BACK IN THE DAY and will release the film in theaters on February 7, 2014 with an ultra VOD window on January 7, 2014. This marks Rosenbaum's feature film directorial debut that he also wrote and stars in along with Morena Baccarin, Nick Swardson, Harland Williams, Sarah Colonna, and Isaiah Mustafa.
"We have followed Michael Rosenbaum's career with great interest over the years and we are thrilled to be working with him on his directorial debut," said Blech about the acquisition. "This film is the perfect mix of funny, crazy, and endearing all rolled into one."
"I couldn't be more excited to have Screen Media releasing BACK IN THE DAY," said Rosenbaum. "It's truly awesome to see their passion in getting the movie out there and seen by a wider audience. The film is very dear to me as I shot it right in the heart of where I grew up in Newburgh and Evansville, Indiana. Somebody pinch me. Harder please."
When Jim Owens makes a surprise visit to his high school reunion… all hell breaks loose. Hilarity ensues as he wrangles his now-married friends together for one last hurrah. Cruising the old strip, seeking vengeance on an old high school principal and nearly breaking up a wedding gets Jim into hot water with his friends and their wives.
BACK IN THE DAY is written and directed by Michael Rosenbaum and stars Rosenbaum, Morena Baccarin, Nick Swardson, Harland Williams, Sarah Colonna, and Isaiah Mustafa. The film was produced by Kim Waltrip (Hit and Run, The Disappearance of Eleanor Rigby: Him and Her) of Kim and Jim Productions, and is also a Rose and Bomb Production.
For more information about the film:
https://www.facebook.com/backinthedaymovie
https://twitter.com/BITDthemovie
Source:wearemoviegeeks.com – Screen Media to release Michael Rosenbaum's Back in the Day on VOD Jan 7 and theatres Feb 7