Screen Media Films President Suzanne Blech announced the acquisition of worldwide rights to Michael Rosenbaum's raunchy comedy BACK IN THE DAY and will release the film in theaters on February 7, 2014 with an ultra VOD window on January 7, 2014. This marks Rosenbaum's feature film directorial debut that he also wrote and stars in along with Morena Baccarin, Nick Swardson, Harland Williams, Sarah Colonna, and Isaiah Mustafa.
"We have followed Michael Rosenbaum's career with great interest over the years and we are thrilled to be working with him on his directorial debut," said Blech about the acquisition. "This film is the perfect mix of funny, crazy, and endearing all rolled into one."
"I couldn't be more excited to have Screen Media releasing BACK IN THE DAY," said Rosenbaum. "It's truly awesome to see their passion in getting the movie out there and seen by a wider audience. The film is very dear to me as I shot it right in the heart of where I grew up in Newburgh and Evansville, Indiana. Somebody pinch me. Harder please."
When Jim Owens makes a surprise visit to his high school reunion… all hell breaks loose. Hilarity ensues as he wrangles his now-married friends together for one last hurrah. Cruising the old strip, seeking vengeance on an old high school principal and nearly breaking up a wedding gets Jim into hot water with his friends and their wives.
BACK IN THE DAY is written and directed by Michael Rosenbaum and stars Rosenbaum, Morena Baccarin, Nick Swardson, Harland Williams, Sarah Colonna, and Isaiah Mustafa. The film was produced by Kim Waltrip (Hit and Run, The Disappearance of Eleanor Rigby: Him and Her) of Kim and Jim Productions, and is also a Rose and Bomb Production.
For more information about the film:
https://www.facebook.com/backinthedaymovie
https://twitter.com/BITDthemovie
Source:wearemoviegeeks.com – Screen Media to release Michael Rosenbaum's Back in the Day on VOD Jan 7 and theatres Feb 7
Marvel Comics' patriarch seems to have weighed in on one of DC's greatest foes.
The Man of Steel sequel will happen, and when it does, Superman will need his Lex Luthor. Back in June, we told you how Smallville's Lex Luthor, Michael Rosenbaum, was lobbying to be Lex Luthor again in Man of Steel 2.
Rosenbaum is still on his quest to make his Luthor-shaped dreams come true, and he's enlisted an unlikely ally — Stan Lee.
While at a convention recently, Rosenbaum got Stan Lee's signature. While Lee was signing, he also took the opportunity to include a little message, which Rosenbaum was very keen to tweet.
"The best Lex Luthor." Considering the many actors who have played the part, those are some big words. We're just not sure what the value of those words is. Yes, Stan Lee is arguably the biggest living legend in comics. He's a Marvel man, though! He's the Marvel man! This could just as easily be an argument against Rosenbaum as one in favor.
Still, it's pretty cool. Let it never be said that Stan Lee does not occasionally like to stir things up.
Source:blastr.com – Stan Lee calls Michael Rosenbaum the best Lex Luthor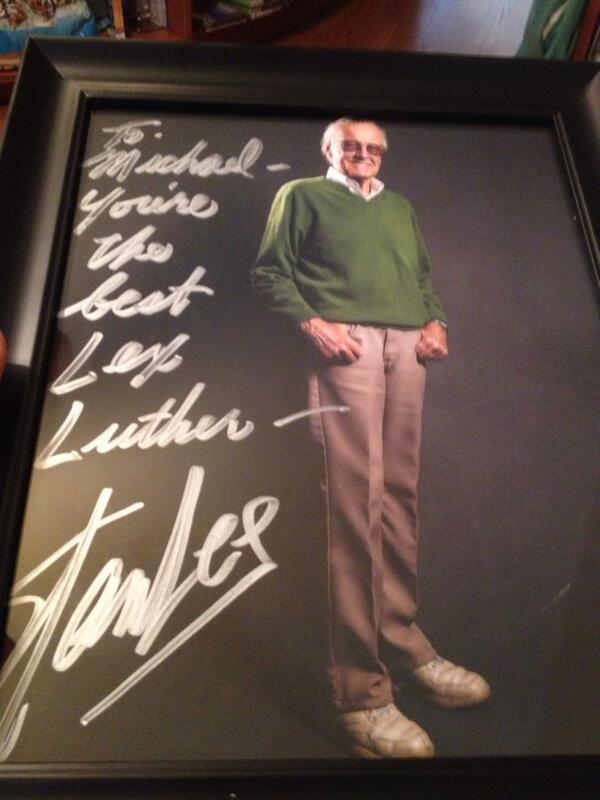 I think everyone who is a fan of Michael's is excited for his first venture as writer/director in the movie Back in the day (previously titled Old Days) It looks like we will finally get to see it in 2014….if we can be patient enough I am not too sure I can be!
Until then show your support and keep up to date with everything to do with the movie on the official Facebook and Twitter pages.
With the sequel to "Man of Steel" already greenlit and entering the planning stages, websites are already publishing their "who should play Lex Luthor" lists (ours is probably coming any day now). One such site is Buzz Focus, whose list got a little bit of a celebrity spotlight.
Yeah, that's Michael Rosenbaum, the actor who portrayed Lex Luthor on the TV series "Smallville" for seven years. Judging by that tweet, he wouldn't mind another go at the maniacal mastermind. He even takes a joking shot at fan favorite Luthor, Bryan Cranston, who has shown that he's capable of unrelenting intensity and villainous focus on his show "Breaking Bad."
But would Warner Bros. ever entertain the notion of casting Rosenbaum? It would be cool, to see the same actor offer up a different interpretation of the same character, stuffed inside of a new, larger universe. The biggest drawback, though, is that a lot of people wouldn't be able to separate the "Man of Steel" sequel from "Smallville," probably leading to a lot of unneeded confusion.
The rest of Buzz Focus' list is interesting, particularly their inclusion of Jon Hamm and Joaquin Phoenix. Either of those guys would own as Lex Luthor. But let's not forget the old rumors that Bradley Cooper would shave his head and tussle with Superman. At this point, with "Man of Steel 2″ so early in development, anything is possible.
Source: splashpage.mtv.com – Man of Steel 2: Michael Rosenbaum up for reprising Lex Luthor role
 Michael has been announced at a convention at Melbourne Showgrounds in Austrailia 12-14th April 2013 as well as at the Gold Coast convention and Exhibition center 19-21 April 2013. He is going to be there all days and will be partaking in Q&A sessions, photographs and autographs. An autograph will cost $30 and photograph $40 for more information and to buy tickets go Here
Michael Rosenbaum is no stranger to superheroes having provided the voice for The Flash in the Justice League, Teen Titans, and Static Shock cartoons, Deadman in Batman: The Brave and the Bold, and playing Lex Luthor in over 150 episodes on the very successful CW series Smallville. But it seems Rosenbaum could make the leap to Marvel as he tweeted this message yesterday:

Rosenbaum isn't the only new name to be added to the potential Peter Quill list as Joseph Gordon-Levitt is said to be on the short list of actors which also includes Jim Sturgess (Cloud Atlas) and Zachary Levi ("Chuck").
The Quill character is likely to be the central protagonist of the film. Raised on Earth, Quill learns that his father was from outer space and is drawn into an intergalactic conflict that eventually leads to him becoming the leader of the Guardians of the Galaxy.
Also said to be on the movie team's roster are the characters Drax the Destroyer, Groot, Rocket Racoon and Gamora. Check back for casting details on those roles as they emerge.
Guardians of the Galaxy is set to be released on August 1, 2014.
Source:superherohype.com – Michael Rosenbaum also in the running for Guardians of the Galaxy lead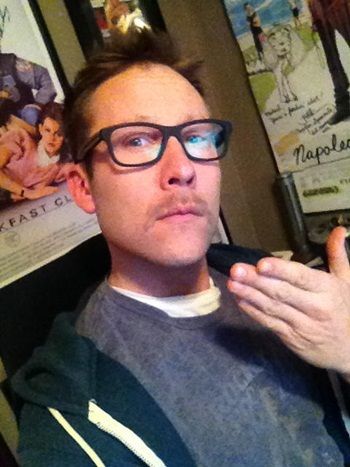 This november Michael is joining the fight for mens health and growing a moustache he need his fans support so let us all donate to the cause and show him that we always support him. This is a great thing to do and no matter how much you donate it all helps so go and spread the word and lets raise some money for a great cause and a very…interesting lip warmer!
Go HERE to donate and show your support
Finally we can all watch the wonderful short film Ghild on Vimeo I have uploaded screencaps from the film to the gallery just click the picture to see them: