MR news
A couple of Hall of Famers and a collection of Stanley Cup champions have been added to the group of alumni set for an outdoor game between the Bakersfield Condors and Ontario Reign.
The Bakersfield Condors and Ontario Reign are set to head outdoors for the Condorstown Outdoor Classic on Jan. 7, but it'd be hard to blame hockey-heads if they were more excited for the NHL Alumni-Celebrity game that will take place the day prior.
It was announced in late-November that the contest, which will feature greats from the parent teams of both AHL clubs, would be captained by Wayne Gretzky and Luc Robitaille, with 'The Great One' leading the Condors in the head-to-head against 'Lucky Luc' and the Reign group.
Gretzky and Robitaille won't be the only Hall of Famers who make their way to Bakersfield for the outing, though, as they'll be joined by 2014 Hall of Fame inductee Rob Blake and 2008 inductee and six-time Stanley Cup champion Glenn Anderson, who will suit up for the Condors.
The sheer number of Stanley Cup titles on the Condors/Oilers roster is overwhelming, too. Beyond Gretzky and Anderson, who have a combined 10 championships, there are another 18 Cup rings to go around. That includes six-time champion Kevin Lowe, four-time winners Craig MacTavish and Duane Sutter and two-time champions Dave Semenko and Kelly Buchberger.
The Reign alumni won't have near the championship pedigree in the outdoor game, boasting only four Stanley Cup winners on their roster. That includes Robitaille, Blake, Sean O'Donnell and Tomas Sandstrom.
Other notables on the rosters include Mike Comrie, who will be skating with the Condors, and Bernie Nicholls, Nelson Emerson, Kyle Calder, Jaroslav Modry and Jamie Storr, all of whom will be dressing for the Reign.
There are also several notables suiting up in the contest who've never suited up for either team, but have made the cut as part of the 'celebrity' portion of the game. For the Oilers, the notables include Wayne's son Ty Gretzky and David Pelletier, the pairs figure skater who won gold at the 2002 Olympics. The Kings will have a few more non-alumni suiting up, including Bones star David Boreanaz, Smallville's Michael Rosenbaum and E! News' Ken Baker.
The outdoor games will both take place at Bakersfield College's Memorial Stadium, with the potential for 19,000 fans to be in attendance. Even if the stadium is sold out, it will be far from the most-attended in AHL history. The 2012 AHL Outdoor Classic between the Adirondack Phantoms and Hershey Bears drew an announced attendance of more than 45,000 fans to Citizens Bank Park in Philadelphia.
That's right! Celebrating it's 15th Anniversary, Hulu has announced that the entire series of Smallville will be available to stream starting on October 1st!
Smallville ended in 2011, having reached 10 seasons. The series starred Tom Welling as Clark Kent, Allison Mack, Kristin Kreuk, Michael Rosenbaum and John Schneider.
Make sure to check it out on Hulu on October 1st!
Source: http://www.nerdsandbeyond.com/2016/09/16/smallville-coming-to-hulu-on-october-1st/
So if you saw the Facebook Live Michael did the other day you will know that Michael is going to be on Jason Manns new album 'covers with friends' which is out on September 1st! Miichael sings on the track Mad World and he sounds amazing as always we all know he has an incredible voice!
Here is the track listing:
Come Together (feat. Rob Benedict)
Mad World (feat. Michael Rosenbaum)
The Weight (feat. Jensen Ackles, Rob Benedict, Richard Speight, Jr., & Gil McKinney)
Simple Man (feat Jensen Ackles)
Dock of the Bay
Wagon Wheel (feat. Rob Benedict & Richard Speight, Jr.)
Higher and Higher (feat. Gil McKinney)
Kiss
The Way You Make Me Feel
Stand by Me
You can get more information from Kickstarter and you can preorder it from Here
Can we get an amen? The second season of Impastor will premiere on TV Land, Wednesday, September 28th at 10:30pm ET/PT. It was originally scheduled to debut June 26, but TV Land announced the delay back in May. The Impastor season two premiere directly follows the third season premiere of Younger, which was just announced.
The Impastor TV series cast includes: Michael Rosenbaum, Sara Rue, Mircea Monroe, David Rasche, Mike Kosinski, Lindsey Gort, Matthew Kevin Anderson, Jonathan Young, and Bonita Friedericy. TV Land announced second season, back in March.
Source: http://tvseriesfinale.com/tv-show/impastor-delayed-season-two-premieres-september-28/
Let's pause for a few seconds to think back to how great Justice League Unlimited was. If you've been waiting for a high definition version for your personal collection, that time has just about arrived. Warner Archive Collection is released Justice League Unlimited: The Complete Series on Blu-ray for the first time in a full 16×9 widescreen presentation Tuesday, November 10, 2015.
The series was a follow up to the Justice League series and ran from 2004-2006. Instead of just having a core team, it featured a huge collection of characters from the DC library. The original seven members were joined by heroes such as Green Arrow, Supergirl, Black Canary, and more. Besides all the villains in the DCU, they also had their hands full with Lex Luthor and the legion of Doom.
The cast featured Kevin Conroy (Batman: The Animated Series) as Batman, George Newbern (Scandal) as Superman, Susan Eisenberg (Justice League) as Wonder Woman, Michael Rosenbaum (Impastor, Smallville) as Flash, Carl Lumbly (Alias) as J'onn J'onzz, Phil LaMarr (Futurama, Pulp Fiction) as Green Lantern and Maria Canals-Barrera (Wizards of Waverly Place, Cristela) as Hawkgirl.
Special features on Justice League Unlimited: The Complete Series include:
Creator's Commentary on the episodes "This Little Piggy" and "The Return";
"And Justice for All": a featurette on the process of revamping the series with new characters and a new creative direction;
"Cadmus Exposed": Mark Hamill and series creative personnel discuss this popular series story arc;
"Justice League Chronicles": The series' writers, producers and directors discuss their favorite moments among final season episodes.
Source: comicvine.com – Justice League Unlimited headed to blue ray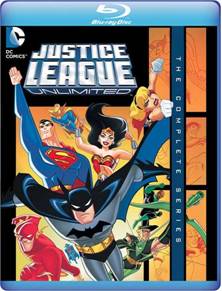 Warner Archive have announced that all 39 episodes of "Justice League Unlimited: The Complete Series" will be released for the first time on Bluray on November 10th, 2015.
Bruce Timm's Justice League Unlimited hits Blu-ray for the first time! A follow-up to Justice League, Justice League Unlimited opens up the DC animated universe to more heroes and villains.
The popular series aired for three seasons on the Cartoon Network from July 31, 2004 – May 13, 2006 and starred the voice talents of Kevin Conroy as Batman, George Newbern as Superman, Susan Eisenberg as Wonder Woman, Michael Rosenbaum as Flash, Carl Lumbly as Martian Manhunter, Phil LaMarr as Green Lantern, and Maria Canals Barrera as Hawkgirl.
"Justice League Unlimited: The Complete Series" on Bluray will retail for $35.99 (USD) and is currently available for pre-order at the discounted price of $28.39 at WBShop.com.
Source: supermansupersite.com – Justice League Unlimited released on Blue Ray
I have added screencaps from this video to the gallery to see them simply click on the picture below: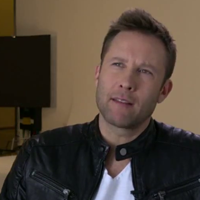 The Kentucky Museum will now have villainous ties to the comic book world as Lex Luthor's suit is prepared to go on display.
Michael Rosenbaum, a WKU alumnus, played Luthor, arch nemesis of Superman, on the TV series "Smallville." Rosenbaum is donating one of Luthor's suits to the museum's Instruments of American Excellence exhibit.
"It's the white suit that Lex Luthor wears… when he becomes president in the future and we see glimpses of that throughout the 'Smallville' series," he said.
The exhibit, which opened in the fall of 2012, showcases many artifacts from American history and pop culture, ranging from heels worn by actress Liza Minnelli to Neil deGrasse Tyson's first telescope. Regional items, such as Louisville Slugger bats, are also on display.
"The thrust of this exhibit is having ordinary things that people used to do extraordinary things," John Perkins, director of development and special projects, said.
All items in the collection were received as donations, including Rosenbaum's latest addition.
"It was a joint effort by our chair Dan Murph and a number of board members to tell people about this grand idea (for the exhibit) and really get them to be behind it," Brent Bjorkman, interim director of the museum, said.
Rosenbaum said it was Perkins who reached out to inquire if he would be interested in contributing to the permanent exhibit.
"I got this email out of the blue… and he told me a lot about (the museum) and I thought it was pretty fascinating," Rosenbaum said. "At first I thought 'I don't belong there.' I mean, this is John Wayne and Liza Minnelli's shoes."
He was reminded by Perkins that "Smallville" was an extremely popular show in American pop culture during it's stint on air.
"I always think about, you know I was just an actor on that show, but then you bump into people, soldiers who were in Iraq and they say, 'Hey, it got me through the war'…so it's humbling," he said. "So I thought, you know, why not? It was kind of an iconic show and it lasted 10 years, it was pretty popular, so I said how about the white Lex Luthor suit that he wears when he becomes president."
Rosenbaum had kept one of the two white suits used on the show. It's this suit that he will send down to go on display.
After the museum acquires the suit from Rosenbaum, it will go through a screening and cleaning process by the museum curator and her team.
Donna Parker, exhibits curator, said the donation is exciting.
"The first thing we'll do is take it and evaluate it… and if it needed any kind of cleaning, we would clean it," Parker said.
Following this and several other cleaning steps, the team would check to be sure no repairs need to be made to the seams of the suit and begin building a form or mannequin to display the suit.
"You either want to purchase or make a form that will fit the piece," she said. "A lot of times what we do is take a form and pad it out… to fill the form (of the clothing)."
There is not a set date yet on when the white suit will be on display, but Parker and others on the curation team ensure it will be up once they're able to go through normal preservation and display procedures.
Source: mkuherald.com – Smallville actor donates suit worn in show to Kentucky Museum