Michael nominated in the Portal awards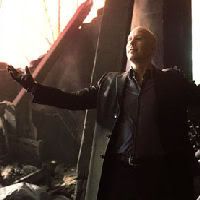 It's summer time, and that means only one thing. It's time for the Porties!
Airlock Alpha announces the 2011 Portal Award nominees, with 15 television shows, five movies and some of the biggest names in the genre competing for a spot in the winner's circle of the 12th installment of the awards.
Leading the way are both a newcomer and a fan favorite: HBO's "Game of Thrones" and Fox's "Fringe." Both received seven nominations, including Best Series/Television.
They were followed closely behind by "Doctor Who" with six nominations, "Stargate: Universe" with five nominations and "Caprica" with four. Rounding out television nominees were "Warehouse 13" with three nominations, "The Walking Dead" and "V" with two, and both "The Cape" and "Smallville" with one.
Of those 10 shows, only half will return for eligibility next year, since the others were either cancelled or simply ended their runs.
On the movie side, "Harry Potter and the Deathly Hallows, Part 1" led the way with seven nominations including multiple Best Actor and Best Actress nominations, and Best Movie.
"Inception" and "Thor" had three nominations each, while "The Adjustment Bureau" and "Tron: Legacy" earned one nomination each.
Elisabeth Sladen, who passed away this past spring after becoming an icon in the Doctor Who franchise, receives her first shot at the Gene Roddenberry Award, which honors lifetime achievement. She was nominated along with "Super 8" director J.J. Abrams, former Star Trek torchbearer Rick Berman, "Star Trek" mastermind Gene L. Coon, and author H.G. Wells.
Five classic television shows are trying to reach a hall of fame of their own with the Rod Serling Award. Looking to join a class that includes the original "Star Trek," the original "Twilight Zone," the original "Doctor Who" and last year's winner "Star Trek: The Next Generation" are "Babylon 5," the original "Battlestar Galactica," "Quantum Leap," "Space: 1999" and "Star Trek: Deep Space Nine."
Fans will have a chance to choose from each category once per day for 30 days beginning June 25 right here at Airlock Alpha.
The Portal Awards, formerly known as the SyFy Genre Awards, were first handed out in 1999, and have since attracted hundreds of thousands of ballots from genre fans from all over the world.
Here are this year's nominees:
BEST ACTOR/Television
Sean Bean, "Game of Thrones"
Joshua Jackson, "Fringe"
Andrew Lincoln, "Walking Dead"
Eddie McClintock, "Warehouse 13"
Matt Smith, "Doctor Who"
BEST ACTRESS/Television
Karen Gillan, "Doctor Who"
Summer Glau, "The Cape"
Lena Headey, "Game of Thrones"
Paula Malcomson, "Caprica"
Anna Torv, "Fringe"
BEST SUPPORTING ACTOR/Television
David Blue, "Stargate: Universe"
Robert Carlyle, "Stargate: Universe"
Peter Dinklage, "Game of Thrones"
John Noble, "Fringe"
Saul Rubinek, "Warehouse 13"
BEST SUPPORTING ACTRESS/Television
Morena Baccarin, "V"
Jane Badler, "V"
Alaina Huffman, "Stargate: Universe"
Allison Scagliotti, "Warehouse 13"
Polly Walker, "Caprica"
BEST EPISODE/Television
Apotheosis, "Caprica"
The Doctor's Wife, "Doctor Who"
Epilogue, "Stargate: Universe"
Lysergic Acid Diethylamide, "Fringe"
Winter Is Coming, "Game of Thrones"
BEST SERIES/Television
Doctor Who
Fringe
Game of Thrones
Stargate: Universe
The Walking Dead
BEST MOVIE
The Adjustment Bureau
Harry Potter and the Deathly Hallows, Part 1
Inception
Thor
Tron: Legacy
BEST ACTOR/Movie
Leonardo DiCaprio, "Inception"
Ralph Fiennes, "Harry Potter and the Deathly Hallows, Part 1"
Rupert Grint, "Harry Potter and the Deathly Hallows, Part 1"
Chris Hemsworth, "Thor"
Daniel Radcliffe, "Harry Potter and the Deathly Hallows, Part 1"
BEST ACTRESS/Movie
Emily Blunt, "The Adjustment Bureau"
Helena Bonham Carter, "Harry Potter and the Deathly Hallows, Part 1"
Ellen Page, "Inception"
Natalie Portman, "Thor"
Emma Watson, "Harry Potter and the Deathly Hallows, Part 1"
GENE RODDENBERRY AWARD
J.J. Abrams
Rick Berman
Gene L. Coon
Elisabeth Sladen
H.G. Wells
ROD SERLING AWARD
Babylon 5
Battlestar Galactica (original)
Quantum Leap
Space: 1999
Star Trek: Deep Space Nine
BEST SPECIAL GUEST/Television
Michael Gambon, "A Christmas Carol," Doctor Who
Alex Kingston, "Day of the Moon," Doctor Who
Christopher Lloyd, "The Firefly," Fringe
Leonard Nimoy, "Lysergic Acid Diethylamide," Fringe
Michael Rosenbaum, "Finale," Smallville
BEST YOUNG ACTOR
Isaac Hempstead-Wright, "Game of Thrones"
Chloe Moretz, "Let Me In"
Daniel Radcliffe, "Harry Potter and the Deathly Hallows, Part 1"
Alessandra Torresani, "Caprica"
Maisie Williams, "Game of Thrones"
BEST WEBSITE
Dark Horizons
GateWorld
i09
TrekMovie
Whedonesque
Source: airlockalpha.com – Game of thrones, Fringe lead 2011 Portal awards
One Response to Michael nominated in the Portal awards