american idol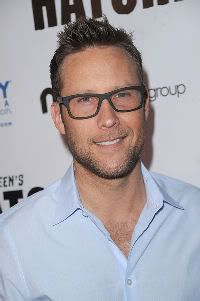 Michael was at the recording of this week's American Idol with his friend Dax Shepard. He looked so handsome sitting behind the judges and as always really enjoyed a live show. But I think we know which contestant he is behind…James Durbin is the resident rocker often doing classic rock songs and here is further evidence:
— Celebrities in attendance included Sir Anthony Hopkins, Kelly Preston, "Parenthood's" Dax Shepard and "Breaking In's" Michael Rosenbaum. Shepard and Rosenbaum were completely in to the show and seemed to like Durbin the most.
— During Durbin's second performance, Rosenbaum stood up and told everyone in his section to stand up, yelling "Come on!" "Smallville's" Lex Luthor is on your side, Durbin. You can't lose now.
Source: blog.zap2it.com – American Idol which contestant made the audience cry?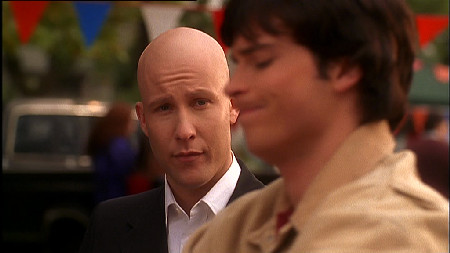 "Smallville" star Michael Rosenbaum delighted fans when he confirmed that he'd return to the show as Lex Luthor for one final time in the two-hour May 13 finale.
Zap2it caught up with Clark Kent's ex-nemesis at the "American Idol" Top 12 party on Thursday night. Rosenbaum was fresh off of his first day on the set of "Breaking In."
"Don't you really want to ask the big question: Why are you at an 'American Idol' party? When I'm 38 years old?" he asks immediately. "My answer is it's a FOX party. I didn't even know it was for 'American Idol.' I just showed up, and there's J.Lo pinching my butt cheeks."
Once he answered that one, we got to the real big question. Why did he hold out so long before agreeing to come back to "Smallville"? It was a rough wait not only for the fans, but for the producers and his long-time friend Tom Welling.
"I always wanted to make it work," he says, "but I was really busy. Adam [F. Goldberg], the creator of 'Breaking In' — he and I were creating a show that I created, that we sold to SyFy, so we're still developing it. We also wrote a horror movie together. So we were just working a lot and I was doing a movie here or there."
He sighs. "It's so funny how the fans can get so intense." He deepens his voice to an angry tone. "'What is he doing that he can't come back? George Clooney came back to ER, and he can't? How big is he?' I'm like, 'Guys, God, relax.' It's not about that. So one day, I called the producers up, and I just said 'Hey, I'm doing this new show, but I'd love to come back and finish what I started.'" He pauses and laughs. "Which I thought I finished three years ago, by the way, but, let's do this. And they made it happen."
Rosenbaum went to Vancouver about two weeks ago to shoot his final scenes, and he had a great time getting into character… with the help of a new accessory. "I had a bald cap that looked amazing," he says. "I couldn't shave my head because I was on 'Breaking In.'"
He confesses that he did initially have a few reservations about going back to the "Smallville" set. "There were personal reasons why I quit 'Smallville' that no one really knows about, that I never really talk about. It was just personal things, that I just never talked about. It was nobody else's business. But I never heard the end of it," he says, chuckling. "Look, I always said I never thought it would last 10 seasons. I can barely have a relationship lasts 10 days. Ten years on a TV show? That's a long time. But then they started calling me out. I finally said, 'You know what guys? I want to do this. Let's just do this.' I want to do it the right way, I want to do it for the fans. I swear to God I did it for the fans. I never want to hear 'Why didn't you go back?' I wanted it to end the way it should have."
Now that all is said and done, Rosenbaum says he thinks that the final scenes between Clark and Lex are "excellent." He was warmly welcomed back on the set by old friends. "It was so great. I went up there and guys that weren't even working on the show anymore came to set to hang out. One guy brought me a joint," he jokes. "I mean, it's a real family."
Rosenbaum and Welling had a great time working together again. "Tom and I had a wonderful time together," he tells us. "We laughed a lot. I shot a couple of scenes with him."
It wasn't all laughter, though. Fans are going to have a very emotional finale experience come May — and they're not the only ones. "I shot for 19 hours, and honestly, I had a tear in my eye at the end. I was like, 'Man, this is really it,'" Rosenbaum says wistfully.
He did it for you, "Smallville" fans, and when "Breaking In" premieres on April 6 at 9:30 p.m., you'll have the chance to repay the favor. "Hey, I came back, so now all I ask is I hope that my fans and everyone will tune into the new show," Rosenbaum says. "I think 'Breaking In' is a lot of fun. I think it's a really funny show. I love a good caper."
Source: blog.zap2it.com – 'Smallville's' Michael Rosenbaum on working with Tom Welling again: 'I had a tear in my eye at the end'