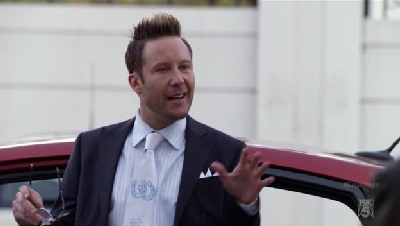 Just a day after rumblings began to circulate online, Fox has officially announced it's rescuing the Christian Slater sitcom Breaking In from cancellation, ordering a 13-episode second season that will debut in 2012.
The comedy, which also stars Bret Harrison, Alphonso McAuley, Odette Annable and Michael Rosenbaum, centers on Contra Security, a company that tests its clients' security systems by breaking into them.
Created by Adam F. Goldberg (Fanboys) and Seth Gordon (Horrible Bosses), the half-hour workplace comedy has a history with the network dating back October 2009, when executives made the initial pilot commitment. The series was officially picked up in November 2010, but didn't premiere until April 6, 2011, where it served as a midseason replacement following American Idol. Breaking In was canceled in May along with Human Target and a handful of other series, but talk of a reprieve emerged almost immediately.
"Breaking In is a creatively vibrant and wildly adventurous comedy," Fox's President of Entertainment Kevin Reilly said in a statement. "We are looking forward to bringing it back for a second season and continuing our relationship with this incredibly talented cast and these fantastic creators — Adam Goldberg and Seth Gordon. We can't wait to see where they take these characters next year."
Source: spinoff.comicbookrecourses.com – Official Fox renews Breaking in