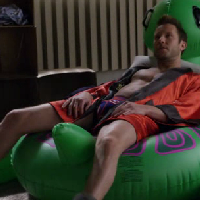 OK now we need to pull together to save this incredible show so go to facebook and twitter and lets show Fox that the fans want this show and this is something that will count no matter what country you are in! This is an incredible show with so much potential we cannot let them cancel it without a fight! So go to Save Breaking in on Facebook and Twitter click like, and #SaveBreakingIn to let Fox know we want this show to stay!
Can Breaking In come back from the dead a second time? Well, it is possible. I hear that Fox may reconsider the bombshell Tuesday night cancellation of the midseason comedy starring Christian Slater. Fox is in discussions with Breaking In producer Sony Pictures TV about possible ways to bring the show back next season, though no decision is expected to be made until after the upfronts last week. If it comes back from a second cancellation, Breaking In will become an instant TV legend as I can't think of another show that has done it more than once. For those who don't know the back story, Breaking In was Fox's highest-testing pilot last season but the network ended up passing on it last May, instead giving series orders to Raising Hope, Running Wilde and Traffic Light. Sony TV didn't give up, extending the options on the cast when they expired. Fox proceeded to order additional scripts and eventually picked up the show to series in November. Breaking In debuted strong, with the premiere ranking as the highest-rated Fox live-action comedy telecast in over 3 years with the best lead-in retention for a sitcom airing after American Idol in 4 years. The series, created by Adam Goldberg and Seth Gordon, subsequently slipped but remained consistent and, with such a short midseason run, was considered almost a lock for a second tryout next season.
Breaking in Needs you!!!
Fans are already rallying around to save Breaking in from being cancelled by Fox! Please go to this site and sign the petition and tell everyone all about it on twitter and facebook and everywhere else!
Michael did a really funny and entertaining interview with Attack of the show where he talks about Smallville and Breaking in
Source: g4tv.com video interview
I have also uploaded screencaps from this interview to the gallery click the picture to see them: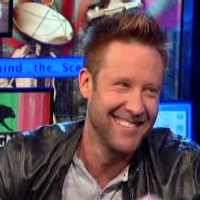 I have uploaded the screencaps from last night's episode of Breaking in to the gallery another brilliant episode and Michael totally stole the show again I just loved it click the picture to see the goodies: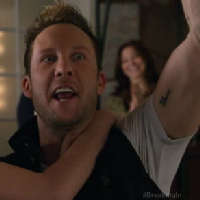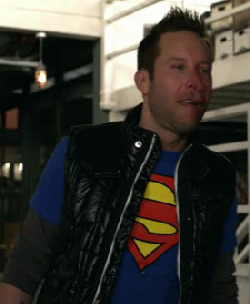 For seven years, Michael Rosenbaum played TV's evil genius du jour as Lex Luthor on "Smallville," but after 150 plus episodes and countless Bic razors, Michael retired his villain cackle for good. Well, almost. Lex rises again in this Friday's two-part series finale since the fans, and Michael, wouldn't rest until Clark his lifelong nemesis were reunited.
In the years between Metropolis trips, Michael filled his time — and resume — with a smattering of indies and a scenestealing role on Fox's just (sadly) canceled "Breaking In." I caught up with Michael prior to the show's untimely demise to talk about his long overdue return to comedy and penchant for on-air stripping, before talk turned to pre-fame Michael.
That's when I truly got a sense of what a fantastically complex and dynamic guy he is — something Michael owes in part to his mother.
PopWrap: After playing Lex Luthor for so long it has to be nice to try out a 180 degree different character.
Michael Rosenbaum: Oh my god, it's such a treat. With Lex, it was Armani suits every day. Now I can just frost my tips and tuck my jeans into my Uggs and go to work. I like mixing it up, which is what was so hard playing a character for so long. I was itching to do something else – that's why I got into this business: to be anyone but me.
PW: Plus it doesn't hurt that you have to constantly manhandle Odette [Annable].
Michael: It's so difficult, man. To have to kiss her takes a lot of preparation. I just have to imagine that it's someone else [laughs]. Honestly though, she's not only stunning, but like the coolest chick. She's just like a cool sister.
PW: That you make out with.
Michael: Well, I am from Indiana. So … it's not unheard of.
PW: Dutch not only has an awesome girlfriend, but one of the coolest wardrobes on television. One that's unrivaled in its absurdity.
Michael: I actually get excited when I find out what's going to be in my closet every day. Same with the costume designers – they'll come up to me and say, "wait till you see the winner we have for you today!" One day it's a onesie jumpsuit with fireballs on it, other days I'm shirtless and they oil me up…
PW: Or covered in sushi.
Michael [laughs] Oh god. From here on out, I'm naked three or four more times.
PW: Which might be the best promotion possible for your fans.
Michael: [laughs] I don't know about that, we might lose fans if you put it out there too much. It's fun. I keep reading scripts and I'm always shirtless … sometimes with nunchucks. My buddy Adam Goldberg created the show and is like, "isn't that funny?" and all it means to me is I have to go to the gym. Comedy is just not worrying what you look like – take it from the lubed up guy covered in sushi. If people laugh, then it's worth it.
PW: The "Breaking In" season finale is a "21 Jump Street" homage, if we were to meet Michael in High School, who would he be?
Michael: I was the shortest kid out of almost 400 kids in high school. No joke. I was five feet tall, under 100 pounds as a senior. I couldn't get nailed in woodshop [laughs]. I only grew six inches after graduation. It was grueling. You look back and I remember thinking "I'm gonna get out of here, I'm going to do something" and I was fortunate enough that the hard work paid off. I was pretty lost in high school, didn't know what I wanted to do,
PW: When did the acting bug bite you?
Michael: I did "Grease" senior year where I played Vince Fontaine. I'll never forget it, I was so nervous, but it got me out of my shell. I remember the next day this popular kid goes, "hey, you were pretty funny." Now that was a big deal because I was nerd. It was my "ah ha" moment. When I realized, if I'm not myself, that's better [laughs]. It took that to really catapult me to the next level where I knew I wanted to do it. So I went to college and focused on that. It definitely resonated and made me feel accepted at something. It gave me enough confidence to do it again. And again. And again.
PW: A lot of funny people say that painful childhoods made them funnier — would you agree?

Michael: I remember always knowing there was something odd about me, and in fifth grade we had a talent show. If you did it, you could get three A's in any subject. And I wasn't very good in school. My dad was really smart. 1420 SAT's and I wanted to take music 10 times. So my mother dressed me up as Pat Benatar for the talent show, and I sang "Shadows of the Night." She put lipstick on me and fake boobs — now remember, I'm a Jew in Indiana. The class just sat there, mouths agape, while I sang. They just didn't know what to think of me. I thought it was funny, no one else did. But come one – it was fifth grade and I just sang "Shadows of the Night" in full drag.
PW: So we have your mother to thank for "Sorority Boys" and "Sweet November?"
Michael: [laughs] Right! She contributed for sure. I was always a bit of an extravert and for a long time people didn't get it, but eventually – thank god, they did.
PW: Oh, I think people more than "get it" — especially after eight years on "Smallville." Did the endurance of that show surprise you?
Michael: I never would have expected it in a million years. If you looked up irony in the dictionary, you'd see a picture of 100 pound me in high school next to the name Lex Luthor. I think anyone who knew me, thought it was a joke. I remember shaving my head and learning the lines and thinking, "they're going to fire me. No one will believe me as Lex Luthor. No way! This evil genius? Come on. There's no way." I was nervous also because fans of the genre stuff are so fiercely loyal. They don't like when you mess with history. But I was fortunate that they created this character so well for so long. It's pretty crazy to think that we're at the end of it now. But it's great because thanks to "Smallville," I'll never just be "the funny guy." I think if I did it backwards, it wouldn't have worked. Had I done all this comedy and then tried to play Lex, people might not have bought it.
PW: There was some question as to whether you'd come back for the finale — did you finally say yes for the fans or because you wanted to be involved?
Michael: Both. Partly because I didn't want to let them down. I never wanted to hear "why didn't you go back?" At the same time, a big part of me just wanted to go back, wrap it up and say good-bye. For a long time, I didn't know when the show would end — I kinda thought I'd be getting Medicare by the time "Smallville" actually ended [laughs]. But once it hit me that this was the series finale, I had to be a part of it. This show started with Lex and Clark, it had to end with Lex and Clark. I always thought deep down it would work out so I could return. And that was one of the best days of my life. Emotional & nerve-wracking — it felt like day one again.
PW: Are you happy with how the show ends?
Michael: Very. But at the end of the day, it's amazing that we get paid to do this – acting is such a gift. The fact people want to see me play a mythological evil superhero genius is incredible. I feel very lucky.
"Breaking In" airs tonight at 9:30 on Fox, while the two-hour "Smallville" series finale airs Friday at 8pm on The CW
Source: nypost.com – Michael Rosenbaum talks Smallville finale, his career