decently funny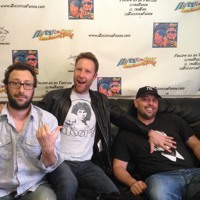 Michael Rosenbaum (Smallville, Justice League) is this week's guest on Decently Funny and we jump right into a very serious topic, manscaping. Michael played Lex Luthor on Smallville so he had to shave his head everyday for a while, but Michael, Nuzzy & Guy all discuss the naughty areas that they shave. We also talked about Judaism, broadway shows, dating, childhood, and the best way to accurately throw a Garvin. Michael nails a number of celebrity impressions throughout the show and he also leaves us with terrific advice on our upcoming Henry Winkler intervie
This week we play an exciting game of "Play it Forward" where Michael Rosenbaum has to match wits with last week's Decently Funny guest: comedian/actor Steven Brody Stevens.
Watch Michael Rosenbaum, Nick Swardson, Harland Williams and Morena Baccarin in Back in the Day available on Video On Demand starting 1/7/14. Theater release 1/17/14.
Download our brand new app for the iPhone RIGHT HERE and for android RIGHT HERE
Follow us all on twitter @mrosenbaum711 @theNuzzy @theguydf @littleboatjack & @DecentlyFunny.
Download all of our shows on iTunes, Soundcloud, Stitcher and DecentlyFunny.com. Theme song written by Little Mikey and performed by Panic! at the Disco.
Listen to the podcast HERE