Greg Beeman has written a really nice blog entry about his time filming Smallville's finale with Michael I have added the parts where he talks about Michael below be aware there are spoilers you can read the full entry at Beaming Beeman as well as other behind the scenes photos of all the cast: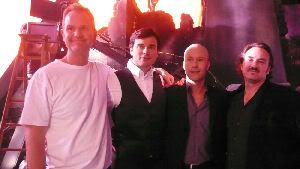 Of course, the most exciting thing was to have Lex return after all this time. Michael really wanted to come back, but he was on a new show (FOX's "Breaking In" – which had completed the pilot and was just about to begin filming episodes.) I hope I tipped the scales a bit when I called him and told him that I was directing and how pumped I was. Anyway – he soon committed to doing the finale' and I'm sure you are all as glad as I was.
Of course, because of his new show he couldn't shave his head as he had in the past – so a bald cap was in order. We were nervous about it, but it was very well done and I think looked good in the end.
Because of Michael's shooting schedule on his FOX show he could only shoot for one day – A Saturday, about a week before we started filming the rest of the episode. Lex's character wasn't in those first red pages I read – but I know Kelly and Brian had plan "B" just in case. Nevertheless, Kelly and Brian rushed to polish the scenes and Michael showed up on a Friday to test the bald cap and get oriented. We filmed all his scenes in one day – a Saturday. (My favorite cool idea of these scenes was when we pull away from the window and the Luthorcorp logo crashes down revealing the "X" in the support structure)
I have to say – that day with Michael was probably the funniest day I've had in my career. Michael and I feel the same way about the SMALLVILLE crew – they are our family and we love them! Michael – over the years had learned to mimic and imitate almost everyone on the crew. We were all in a production meeting when he first arrived to much applause and hugs – and it wasn't two minutes later before he was doing his famous imitation and the room exploded in laughter.
The scenes were no different. Tom and Michael fell right back into their on screen relationship. Even though the Lex/Clark scene and the Lex/Tess scene are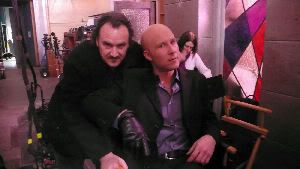 very intense and Michael came up with his usual genius subtle performance – Michael and I are both notorious cutups and together we're twice as bad – between takes was non-stop, sidesplitting, raucous laughter, including us serenading each other with "Oh Sherry" from opposite sides of a massive soundstage. At one point -Michael in his white "President Lex" suit and black glove was standing in front of a green screen telling off-color jokes. I'm off camera yelling, "We're rolling Michael…" "We're rolling Michael." But he still does, like, a five-minute standup act… Oh my God what a day!!!!
By the way my hat is off to Cassidy Freeman for her scene with Michael. They had never worked together, or even met (as far as I know.) She stepped up and crushed the scene – I think her work in that scene is subtle and intense. A long long time ago I read a quote from Robert DeNiro that, in life people put a lot more energy into hiding their emotions from each other than showing them – and that most actors get this wrong. I agree and I always try to direct performance with this intention – Feel the emotion, but then disguise it or re-direct it. The more layers an actors performance can have the better. Cassidy and I worked on the idea that there was an ongoing relationship with Lex and a great love and gratitude to him from her. But also all the pain and betrayal that she has gone though to get here. We talked about how she was entering the scene knowing she would probably never leave the room alive and that she had to disguise her true intentions throughout. Also, that even in the final moment of her death she still loves Lex. That's a lot of complex stuff in a short scene. What always interests me most is not the dialogue but the moments between the lines – it's in the pauses that you can read truth.
I have added the rest of the photos of Michael to the gallery just click the photo below to see them: