michael rosenbaum online
Can we get an amen? The second season of Impastor will premiere on TV Land, Wednesday, September 28th at 10:30pm ET/PT. It was originally scheduled to debut June 26, but TV Land announced the delay back in May. The Impastor season two premiere directly follows the third season premiere of Younger, which was just announced.
The Impastor TV series cast includes: Michael Rosenbaum, Sara Rue, Mircea Monroe, David Rasche, Mike Kosinski, Lindsey Gort, Matthew Kevin Anderson, Jonathan Young, and Bonita Friedericy. TV Land announced second season, back in March.
Source: http://tvseriesfinale.com/tv-show/impastor-delayed-season-two-premieres-september-28/
I have uploaded the gallery with pictures from the Luc Robitaille Celebrity Shootout at Toyota Sports Center click the picture below to see them: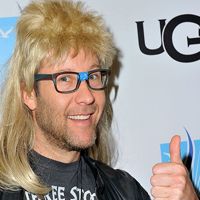 Let's pause for a few seconds to think back to how great Justice League Unlimited was. If you've been waiting for a high definition version for your personal collection, that time has just about arrived. Warner Archive Collection is released Justice League Unlimited: The Complete Series on Blu-ray for the first time in a full 16×9 widescreen presentation Tuesday, November 10, 2015.
The series was a follow up to the Justice League series and ran from 2004-2006. Instead of just having a core team, it featured a huge collection of characters from the DC library. The original seven members were joined by heroes such as Green Arrow, Supergirl, Black Canary, and more. Besides all the villains in the DCU, they also had their hands full with Lex Luthor and the legion of Doom.
The cast featured Kevin Conroy (Batman: The Animated Series) as Batman, George Newbern (Scandal) as Superman, Susan Eisenberg (Justice League) as Wonder Woman, Michael Rosenbaum (Impastor, Smallville) as Flash, Carl Lumbly (Alias) as J'onn J'onzz, Phil LaMarr (Futurama, Pulp Fiction) as Green Lantern and Maria Canals-Barrera (Wizards of Waverly Place, Cristela) as Hawkgirl.
Special features on Justice League Unlimited: The Complete Series include:
Creator's Commentary on the episodes "This Little Piggy" and "The Return";
"And Justice for All": a featurette on the process of revamping the series with new characters and a new creative direction;
"Cadmus Exposed": Mark Hamill and series creative personnel discuss this popular series story arc;
"Justice League Chronicles": The series' writers, producers and directors discuss their favorite moments among final season episodes.
Source: comicvine.com – Justice League Unlimited headed to blue ray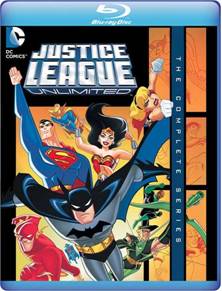 Warner Archive have announced that all 39 episodes of "Justice League Unlimited: The Complete Series" will be released for the first time on Bluray on November 10th, 2015.
Bruce Timm's Justice League Unlimited hits Blu-ray for the first time! A follow-up to Justice League, Justice League Unlimited opens up the DC animated universe to more heroes and villains.
The popular series aired for three seasons on the Cartoon Network from July 31, 2004 – May 13, 2006 and starred the voice talents of Kevin Conroy as Batman, George Newbern as Superman, Susan Eisenberg as Wonder Woman, Michael Rosenbaum as Flash, Carl Lumbly as Martian Manhunter, Phil LaMarr as Green Lantern, and Maria Canals Barrera as Hawkgirl.
"Justice League Unlimited: The Complete Series" on Bluray will retail for $35.99 (USD) and is currently available for pre-order at the discounted price of $28.39 at WBShop.com.
Source: supermansupersite.com – Justice League Unlimited released on Blue Ray
BEVERLY HILLS, Calif. — Drama class proved to be an easy "A" for Michael Rosenbaum.
He wasn't interested in the glory or attention. In fact, he didn't initially participate in any plays.
"I was taking drama classes, but I was still nervous and shy," he said. "My teacher said — I was a senior — she said, 'Listen, you can't take Drama 4 unless you audition for a play.'"
Reluctantly, he agreed to try out for Grease.
"Doesn't every actor audition for Grease?" he asked.
To his surprise, he landed the part of the dance-show host.
"'Hey, hey, this is the main brain, Vince Fontaine — spin the sacks of wax here at the house of wax, WAXX,'" Rosenbaum recited. "I still remember because I was sooo nervous."
He seemed to make a light-year leap from Vince Fontaine to Lex Luthor, the role he played for 10 seasons on the TV series Smallville.
Another seismic revelation is involved in his playing a con man with peerless timing on the TV Land comedy Impastor. A street-wise grifter, the character suddenly finds himself heading a devout Lutheran congregation that mistakes him for the new pastor.
The series has already been renewed for another season.
At age 43, Rosenbaum no longer qualifies as a nervous newcomer.
"If you knew me in high school, I was the shortest kid in high school," he said. "I didn't start puberty till late. I didn't have many friends. I like to call myself 'ahead of the times.'
"The next morning (after Grease), I was walking down the hallway and a couple of the popular kids said, 'Hey, you're pretty funny.'
"So for me, not being me onstage, I could be any weird eccentric; anything I wanted to do onstage, I could do. I didn't feel like I was being judged. It was my time. And I built slowly through college, doing more plays and off-Broadway. I started to build more confidence, and suddenly I started to realize: 'Hey, you know what? You might have a career in this!'"
Several people along the way — including his grandmother Ruthie — encouraged him.
In her honor, he wears a tattoo on his arm.
"You need somebody — your grandmother or somebody who believes in you," he said. "She said, 'You're the only one who listens to me.' . . . I wanted to hear her stories. We'd sit around and talk for hours. I filmed her and interviewed her about her life. She was tough. . . . I learned how to be tough from her."
Rosenbaum had reached his late 20s when he lost his grandmother.
"Grandma's death made me cherish the important things more," he said. "My grandma's death made me think more about life. People die around you, and, all of a sudden, the world stops and it's amazing how it takes you back to reality. People say, 'Do you get over someone's death?' You never get over it; you just learn to live with it."
Although he would like to have a wife and family, Rosenbaum has yet to meet the right woman.
"I had a little dysfunctional family (growing up), and, for me, I always look a little too closely at red flags. I go, 'Ew, that makes me think of certain things when I was younger.'
"Eventually, I want to have a family, find somebody who's patient with me. The last girl I went out with was a teacher from Montreal. She was a great girl, but she was too far away. But I don't give up."
Source: dispatch.com – Grease role launched Michael Rosenbaum to success
One could say that Michael Rosenbaum's prayers were answered when TV Land's Impastor came his way. For the Smallville alum not only found in the comedy perhaps "the perfect role" – as a charming, extremely non-religious con man who co-opts the identity and life of a clergyman (who he later learns is gay) — it came on a show that proved to have legs, and as such earned a Season 2 pick-up weeks ahead of this Tuesday's finale.
In a TV market that is "oversaturated with so many shows, I couldn't believe how happy I was. I was just elated" about the renewal, Rosenbaum shares. "I know Impastor is hard to find, I know it's [on at] 10:30, I know it's the opposite of TV Land, but we were hanging in there, and I could tell that word was spreading."
On the occasion of Impastor's freshman finale, TVLine caught up with Rosenbaum, who currently is on location filming the dark indie comedy Last Days of Summer with William Fichtner.
TVLINE | I was surprised when Impastor first rolled around that there was a bit of a furor over the whole religion thing. Do you feel that has fallen by the wayside since?
You know, we never wanted to make fun of Christianity or homosexuality…. It was just a slice-of-life, funny, goofy comedy, making fun of everybody but in a subtle way. And the people who are religious… I know a pastor where I grew up who's like, "I'm not offended at all." He cracked up!
TVLINE | The church is more a backdrop for the show. The same way thatCheers had "types," all of us know a Dora at our church,
we know an Alden…
Also, Buddy is a fish out of water, and he's a con man, so the idea isn't to make fun of Christianity, it's to take over this pastor's life, get his money and get out – but then something keeps making him stay. I think people have a propensity to judge a book by its cover, but I'm like, "Watch the show and you'll see, it has nothing to do with that."
TVLINE | I mean, has Buddy even set foot in the church since Episode 2?
Right, I had like a couple sermons the whole year. It's not that he makes fun of religion, it's that he doesn't know jack s–t about it. It's funny because I don't know jack s–t. either, so it was the perfect role for me.
TVLINE | I love how much the show gets away with. Has there been anything that did not quite make it in?
Man, I've managed to put my bare ass in the show three times — so Sara Rue said, "Cut it down to just one ass" if we got renewed. [Laughs] When I read the script, I said TV Land's not going to do this, there's no way.
I'm not going to do this because they're gonna shoot it and then take it all out. But then I went to the guys at [TV Land parent] Viacom and TV Land and they were so supportive. Like, "We want it to be edgy but we don't want it to feel forced." So, it's not like we'retrying to swear, we just wanted to make an original piece of programming where people could sit down and have a laugh and not know where the story is going. And even though some crazy stuff happens – like, Buddy is having sex with a prostitute in the woods when a kid takes his picture and blackmails him – we're always striving to keep it grounded.
TVLINE | One of the conceits of the show is that in every episode, Buddy comesthisclose to being found out. Has there been a time reading the script when you thought, "Oh, for sure he'll get caught this time"?
There's always the element when I read it like, "How is he going to get out of this one?" Like the episode where the Fenwicks are in town and it becomes: How does Buddy meet these people who say they've met [the real] Jonathan Barlow before? It's fun to do that stuff because it's also difficult, because you have to put a smile on your face but you can't play it too campy or it becomes too much. But yeah, I love that's its serialized, that there are always twists and turns.
TVLINE | Speaking of which, last week left us with quite a cliffhanger. Did Taylor Cole murder poor Dora (played by Sara Rue)? Because that'd be sad.
We'll just have to see, won't we! [Laughs] But it's pretty cool how you have all of these elements in play – this guy Damon's after me, so he hires someone to kill me, and you've also got the cops starting to catch up to me…. Everything's going to come to a head in the finale. There's a lot that goes on.
TVLINE | I have to imagine someone finds out his secret in the finale. That'd be a logical move. Kind of like how a superhero series
slowly reveals a secret identity.
It's funny because Alexa (Mircea Monroe) is wondering, "What kind of pastor are you?"
TVLINE | He killed her ex-boyfriend!
I killed this guy! So obviously she knows there's something odd going on…. Everybody's had some ideas.
TVLINE | I feel like, storytelling-wise, fun could be had with any scenario. If Alexa finds out, she'd keep quiet since he did her a solid. If it's Alden (David Rasche), he could blackmail him with the Ashlee/hooker thing….
And if Russell finds out, maybe there's some heavy petting to buy his silence…. It's fun because we've come full circle. In the pilot, I open the door and the guys who are after me are there. And now that I've started to get a little comfortable in town, in the finale it all comes to a head. It's time for Buddy to get out. Ladner is the best scam he's ever pulled, but he's really pushing it at this point, so I think he's gotta flee.
TVLINE | Speaking of Alden's affair, I didn't realize until last week that the actress playing Ashlee is Lindsey Gort aka teenage Samantha on The CW's The Carrie Diaries.
You know what, Lindsey's so great. I always say how hard it is to be a guest star but she comes in and just owns it. We're like, "In one scene you're behind a tree having sex… and now you're making out with the president of the church." That's the great thing about this show – we really have fun together. Even David Rasche — he is a little older than us but he's a goofball, too.
TVLINE | Speaking of guest stars, people do love their little "mini-reunions." Who from Smallville would
you like to see bring their comedy chops toImpastor?
That's a really good question…. I mean, Tom [Welling] and I are still buddies – I'm a Jew but I had a Christmas tree decorating party last year and he made an ornament and brought it over. So, Tom's got a really fun, really dry sense of humor…. It'd be a blast if there was something for him.
TVLINE | Like, maybe he's the onetime BMOC from Ladner College or something….
Yeah! Or he could be a criminal in town. Tom would be a blast. I also think Annette O'Toole (who played Martha) is really funny, she could be hilarious. And Allison Mack (Chloe)…. Any of those guys, we'd be lucky to have them.
What I like is that my peers will send me an email – "Dude, I could play a rival pastor!" People want to be on the show and that really excites me. It means we're doing something right. But you know what the best thing is? I used to think, "You want everybody to watch a show," but now success for me — and I'm not giving you a fake sermon here! — is working and being happy with what you're doing. If you can wake up every morning and enjoy work. I'm 43 years old now, so I'm very appreciative in my older age!
Source: tvline.com – Impastor's Michael Rosenbaum thanks the TV gods, mulls super guest star