podcast
First hour: Ed welcomes actor, producer and director Michael Rosenbaum (Impastor, Smallville). New episodes of Impastor air Wednesday nights on TV Land. Also in this hour: Tony Figueroa and Donna Allen remember soap opera pioneer Agnes Nixon and the anniversary of the original 1966 broadcast of It's The Great Pumpkin, Charlie Brown. Second hour: Ed welcomes back actress, author and teacher Dee Wallace (E.T.: The Extraterrestrial, Cujo, The Howling, The Frighteners, Just Add Magic). Topics include one of Dee's earliest and most important screen roles (an appearance on Lou Grant), her new children's book, On Dandelion Seed (which she co-authored with Keith Malinsky), and Buppa LaPaloo, a stuffed teddy bear created by Dee that also serves as an important teaching tool for children ages four to seven. Dee Wallace will appear at the Mystic Journey Bookstore, 1624 Abbot Kinney Blvd., in Venice, CA on Saturday, Nov. 12 beginning at 7pm. Also in this hour: Longtime radio personality Sam Yates shares a clip of an interview he did with Star Trek actor James Doohan in the 1990s.
You can listen HERE
I came across this old podcast of Michael on a show called The Game Over Greggy Show and it is so funny as always so give it a listen!
Michael Rosenbaum joins The Lunch Podcast this week talking about the new film Back In The Day, which not only features him in the lead as part of a talented cast (including Morena Baccarin, Harland Williams, Isiah Mustafa and many more) but also marks his debut as a feature-length screenwriter and director. We dined at Greenblatt's in West Hollywood, and talked about topics ranging from his decision to shoot in his hometown, trying to bring back the art of the tasteful poop joke, the mythical Italian taste treat known as the Stromboli, why your indie film's title can't start with 'O,' and many and various other topic while discussing his debut as a feature-film director. Back in the Day will be in theaters on Friday the 17th, and is currently available on video-on-demand.
You can listen to the podcast HERE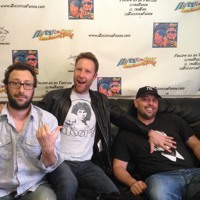 Michael Rosenbaum (Smallville, Justice League) is this week's guest on Decently Funny and we jump right into a very serious topic, manscaping. Michael played Lex Luthor on Smallville so he had to shave his head everyday for a while, but Michael, Nuzzy & Guy all discuss the naughty areas that they shave. We also talked about Judaism, broadway shows, dating, childhood, and the best way to accurately throw a Garvin. Michael nails a number of celebrity impressions throughout the show and he also leaves us with terrific advice on our upcoming Henry Winkler intervie
This week we play an exciting game of "Play it Forward" where Michael Rosenbaum has to match wits with last week's Decently Funny guest: comedian/actor Steven Brody Stevens.
Watch Michael Rosenbaum, Nick Swardson, Harland Williams and Morena Baccarin in Back in the Day available on Video On Demand starting 1/7/14. Theater release 1/17/14.
Download our brand new app for the iPhone RIGHT HERE and for android RIGHT HERE
Follow us all on twitter @mrosenbaum711 @theNuzzy @theguydf @littleboatjack & @DecentlyFunny.
Download all of our shows on iTunes, Soundcloud, Stitcher and DecentlyFunny.com. Theme song written by Little Mikey and performed by Panic! at the Disco.
Listen to the podcast HERE
Download This Podcast
Right Click Link and "Save Link As"
Actor/Writer/Director Michael Rosenbaum ("Smallville," Urban Legend) joins Adam and Joe for a rowdy and hilarious discussion about directing his first feature film Back in the Day, the differences between a major studio production and an independent film, what comes with having played the iconic "Lex Luthor" on one of the most historic show's on television for 7 years, and learning how to direct from being on a set. Of course your terrific "Viewer Mail" questions are answered at length, Bruce Fuery punishes the boys at the hands of his "Fists of Fuery," and Rosenbaum joins in for the most challenging "5 Minute Movie" so far. Listen, learn, and laugh along at one of the most fun episodes yet!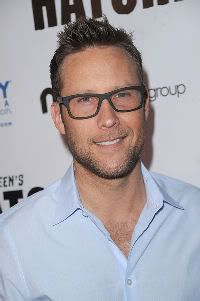 Between the sheets podcast will have Michael as a special guest today at 8pm PST it can be downloaded from Hot talk LA and of course it will be available from itunes. You can follow the show at @BWTheSheets