Breaking in series review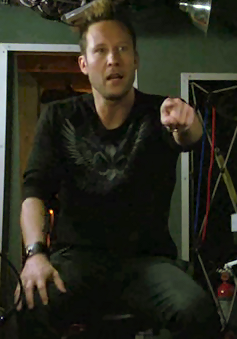 Christian Slater has had a lot of issues with getting a descent television show aired, but finally he did! Unfortunately, it didn't live up to FOX Networks standards and was canceled Spring 2011. Only last one season and roughly seven episodes, "Breaking In" a very clever and hilarious sitcom and when it was canceled people went crazy. Michael Rosenbaum, of Smallville fame, immediately jumped on the Social Network site Twitter to campaign along with thousands of fans to bring back "Breaking In". FOX heard and gave it a second chance by moving nights from Wednesday, after American Idol, to Tuesday during it's comedy block. Unfortunately, it didn't perform up to it's standards again and it's believed that FOX will not be bringing it back. Fortunately though, it is a widely supported show and is being "shopped" around, meaning being pitched to other television networks, so there is a likely chance that it could indeed come back in the Fall of 2011!
"Breaking In" stars Christian Slater as a boss at a security firm called Contra. This show was based on the various jobs that him and his team had to do for it's clients. One of the jobs they had to do was guarding a copy of "The Goonies 2" during a Comic-Con convention. This was one of the funniest episodes of a television show I have seen in awhile with "The Whitest Kids U'Know" Trevor Moore's character dressed up in an "Avatar" costume saying, "I met a Smurf at Comic-Con, and I Smurf'd the Smurf out of her!". Possibly one of the funniest quotes from a show I have heard in quite a long time! The series also focused on one of the main characters, Bret Harrison's Cameron, feelings for another co-worker, Odette Annable's Mel. But, the funniest person on this show goes to Alphonso McAuley playing the character "Cash". He had so many great moments and even more hilarious one-liners!
In the end, it is sad that "Breaking In" is over (for now). Hopefully, another network will see it's potential and pick this show up. G4 stands out because of the nature of the television show, but for now we only have seven episodes of this hilarious sitcom to watch. If you haven't taken time to watch this, I highly suggest you go on FOX's website and search for it because you will be impressed!
Source: Matthew Casale examiner.com – I smurf'd the smurf out of her! Breaking in series review