Michael to direct and star in movie about his home town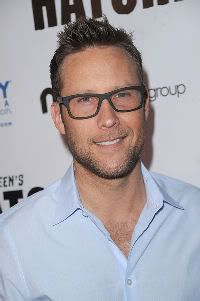 Michael Rosenbaum, a 1990 Castle High School graduate, will be directing and starring in a movie he wrote that takes place mostly in Newburgh and Evansville. Filming will begin early next year.
"I'm looking forward to showing the world what it was like growing up in Indiana," Rosenbaum said. "It's the foundation of who I am today."
He did not want to reveal too many plot details, however.
"It's about reliving the glory days," Rosenbaum said.
He was honored at halftime of the Memorial at Castle football game on Friday night. Castle gave him a hockey jersey and other items to show support for his acting career and appreciation for his continued support of the school.
"It's exciting to be honored by my old high school," Rosenbaum said. "Andy Byers is a wonderful principal, and the school is even more beautiful than I remember."
Rosenbaum, probably best known for his portrayal of Lex Luthor in the long-running CW TV series, "Smallville," recently completed a movie due out this spring with Bradley Cooper and Kristen Bell.
In the spring, Rosenbaum appeared in the new Fox sitcom, "Breaking In," starring Christian Slater. Although it was on the verge of cancellation, Fox renewed the half-hour series and was expected to order 13 new episodes. However, Rosenbaum has not made any decision whether he will return to the show.
Rosenbaum and his younger brother, Eric, joined forces to create "ROSE and BOMB Productions." Michael Rosenbaum's first project with the company was "GHILD" an award-winning coming of age tale about a boy who is born a giant. Rosenbaum wrote, produced and starred in the fairy tale short, which was shown at film festivals throughout the nation.
Rosenbaum has appeared in several movies, including "Midnight in the Garden of Good and Evil," "Urban Legend," "Sweet November," "Poolhall Junkies," "Sorority Boys," "Bringing Down the House," and "Kickin' It Old Skool."
Source: courierpress.com – Rosenbaum to direct, star in movie about Newburgh, Evansville