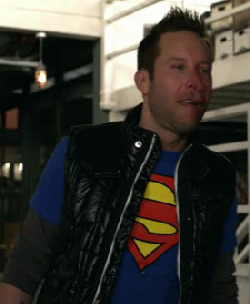 Michael Rosenbaum is in heaven.
Before you jump to any conclusions, we should clarify that he's in nerd heaven: Comic-Con. Well, "Breaking In's" version of The Con anyway.
Rosenbaum fans can see the actor in action (and costume) at Comic-Con tonight, May 4, on an all-new episode of the FOX comedy. Contra Security, with new addition Dutch (Rosenbaum), heads to Comic-Con to recover the first print of "The Goonies" sequel (not actually happening, sorry to crush your dreams) that has been stolen by a Ninja Turtle. "Goonies" and Ninja Turtles? We. Love. This. Show.
So how does "Breaking In's" version of The Con compare to the original? "I think they've replicated it pretty well," Rosenbaum, who has been to Comic-Con, says. "What's Comic-Con without Darth Vader or stormtroopers or Boba Fett or Gandalf the Great or Yoda? We've got 'Avatar.' We've got it all. It's nerd heaven and I'm definitely a nerd."
While some of his co-stars are dressing up as Xena or Na'vi, Rosenbaum is wearing the best costume of all (according to us anyway): Sloth from "The Goonies."' Superman t-shirt included.
"I play Dutch/Sloth. I don't know exactly what I'm supposed to tell you, but my character has a little bit of an allergic reaction to peanuts," he explains of Dutch's costume. "We have a nice 'Goonies' theme. I think 'Goonies' is an all-around favorite of every generation."
There's also a nice little meta moment for "Smallville" fans in the episode — Rosenbaum rocks a Superman t-shirt just like Sloth did. ""It's a little homage. Adam Goldberg, the creator, really asked a lot and I said, 'Whatever you want,'" Rosenbaum says of the shout-out. "It's comedy, let's make fun of ourselves. I'll put on a Superman shirt, I'll do whatever."
Who would Rosenbaum dress up as for Comic-Con if he had the choice? "I think I'd dress up as maybe Bruce Campbell, 'Evil Dead ll,' something like that." He's right: He's totally a nerd.
Source: blog.zap2it.com – Michael Rosenbaum talks comic con ep, Goonies, and his Superman shirt