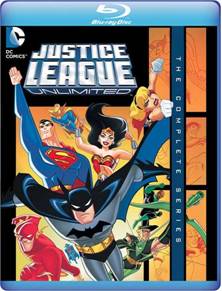 Warner Archive have announced that all 39 episodes of "Justice League Unlimited: The Complete Series" will be released for the first time on Bluray on November 10th, 2015.
Bruce Timm's Justice League Unlimited hits Blu-ray for the first time! A follow-up to Justice League, Justice League Unlimited opens up the DC animated universe to more heroes and villains.
The popular series aired for three seasons on the Cartoon Network from July 31, 2004 – May 13, 2006 and starred the voice talents of Kevin Conroy as Batman, George Newbern as Superman, Susan Eisenberg as Wonder Woman, Michael Rosenbaum as Flash, Carl Lumbly as Martian Manhunter, Phil LaMarr as Green Lantern, and Maria Canals Barrera as Hawkgirl.
"Justice League Unlimited: The Complete Series" on Bluray will retail for $35.99 (USD) and is currently available for pre-order at the discounted price of $28.39 at WBShop.com.
Source: supermansupersite.com – Justice League Unlimited released on Blue Ray